Wow, did I just say that?

This article is a B. It is missing three or fewer sections, or some images need to be added. Please do what you can to help!
King Oritel is the king of the realm of Domino. He is the husband of Queen Marion, biological father of Crown Princess Daphne and Princess Bloom, and father-in-law to Prince Thoren as of the Season 6 finale. He is also the leader of the former Company of Light.
Appearance
Personality
Oritel is a brave and determined man who is very protective towards his family and his people. Full of love and compassion toward his wife and two daughters, Oritel can also be overprotective of them and this goes double towards his daughters after losing them for almost two decades as a result of the Ancestral Witches' raid on Domino. As such, he is shown to be very grateful towards Mike and Vanessa upon meeting them for being the ones to raise and keep Bloom safe when he could not. His overprotectiveness can also make him stubborn and easily enraged as, for most of Magical Adventure, he refuses to let Sky explain himself for breaking Bloom's heart and even ignores Bloom's own pleas as he sets up a selection process to find another fiancé for Bloom that he can approve of. Through this, Oritel is shown to be someone who sticks close to royal traditions, but he only does so under the belief that he is keeping his family happy and safe. Once he sees that his actions have done more harm than good though, Oritel will try his best to make amends, even if the person he is trying to apologize to does not forgive him or tries to turn him away.
Oritel is also open to compromise despite his stubbornness, especially in the face of a large threat, which is made evident by his formation of both the Company of Light and the Council of Sovereigns. He is also proven to be a competent leader with how he led the Company of Light and currently leads his kingdom after its restoration. Additionally, in Issue 97 of the Winx Club Comic Series, he and Marion are described as being those unafraid of doing the right thing, even if at the cost of their own lives.
Pre-Series
Sometime during his youth, Oritel met Marion (presumably through the traditional selection process) and later married her. Whether their engagement was initially a political one or not did not seem to matter as the two enjoyed a happy, love-filled marriage together, during which they bore two daughters: the eldest they named Daphne, and the youngest, Bloom. Also, as king, Oritel became the latest keeper to the Book of Fate that was guarded by the Roc, and appointed an older man named Bartelby as his scribe.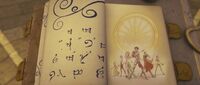 Oritel was Domino's king when the Ancestral Witches located the Dragon's Flame on his realm. Aware of the destruction and death the Witches left behind them, Oritel established the Company of Light, a group of fearsome magical warriors, alongside his wife and queen, Marion. Those who joined the Company of Light alongside them were Hagen, Faragonda and Saladin. Griffin later joined their ranks after fleeing from her previous alliance with the Witches and their son, Valtor.
As they prepared for their inevitable battle with the Witches, Oritel received a sword forged by Hagen with a spark of the Dragon's Flame inside it. He also made an alliance with his friend Erendor, requesting that he protect Domino in his stead as he and the Company of Light were away fighting against the Witches.
Unfortunately for Oritel, the Ancestral Witches caught wind of his alliance with Erendor and destroyed Havram to force him into breaking his promise, allowing for them to raid Domino. As Oritel and the Company of Light tried to fight them off, they were left to fight Valtor as the three Witches raided the castle. Daphne, his eldest daughter who he previously tasked with protecting the Dragon's Flame, passed it down to her baby sister and sent her to Earth.
The Company of Light fought against the Witches and their forces with all their might until they were successful in defeating them. Unfortunately, Oritel could not celebrate their victory as both his daughters were presumably killed in the attack; Daphne was rendered a spirit without a body and Bloom was nowhere to be found.
Just as the Company of Light were about to do away with the Ancestral Witches for good by banishing them into the dark realm of Obsidian, the trio grabbed Oritel and sucked him in with them. Marion followed Oritel to Obsidian by transferring her spirit into Oritel's sword out of the refusal to abandon him. Additionally, the overwhelmingly negative energy pouring out from the Obsidian portal sucked in all the surviving inhabitants and froze the realm over.
Inside Obsidian itself, Oritel and the inhabitants of Domino were petrified into black stone as Marion remained trapped inside Oritel's sword.
Series
Seasons
Specials
The Shadow Phoenix
Similar to his appearance in the episode "The Spy in the Shadows," Oritel appears alongside Marion within Bloom's subconscious magical journey during a session with Professor Avalon. They appear at the end of a tunnel made of smoke and call out to Bloom, who is ultimately unable to reach them when the image of a Dragon appears above them.
Movies
Comics
Winx Club
World of Winx
#164: The Ice Land
Community content is available under
CC-BY-SA
unless otherwise noted.