Wow, did I just say that?

This article is a B. It is missing three or fewer sections, or some images need to be added. Please do what you can to help!
King Oritel is the king of the realm of Domino. He is the husband of Queen Marion, biological father of Crown Princess Daphne and Princess Bloom, and father-in-law to Prince Thoren as of the Season 6 finale. He is also the leader of the former Company of Light.
Appearance
Oritel is a man of tall stature with short brown hair, thin brown eyes, a small pointed beard and tan skin. The king's attire consists of a royal red bodysuit with large, open sleeves that end with large fluffed cuffs. He wears a large metal headpiece that expands over his shoulders and opens up enough above his head to show off his large gold crown. Two red spots in the shape of rounded diamonds can also be found on each side of the headpiece over his ears. From the back of the headpiece rests Oritel's fur cape that flows down to the ground with a sizeable amount that rests behind him. In front of the headpiece rests a large white cloth topped with an ornate golden collar with a symbol at the center of the collar containing a red and blue circle with a four-pointed yellow star; this symbol being the official crest of the Domino Royal Family. The cloth is bound to the bodysuit by a large golden belt. He also wears large metal boots that go up to his knees. In Issue 97 of the Winx Club Comic Series, Oritel's royal attire is greatly altered. Instead of having short hair, Oritel is seen with a long ponytail behind him as he no longer wears the large silver headpiece. His bodysuit now has closed sleeves that end in a gold stripe and his cape appears as a plain gold cape instead of a fur one. The white cloth over his bodysuit now contains more detail in the form of gold borders and large stripes that converge at his chest to form a gold rectangle. He also wears a smaller gold belt with a round buckle and slimmer metal boots.
In his youth as a warrior and leader of the Company of Light, Oritel wore a maroon bodysuit covered in ornate silver armor with gold accents. Many large red gems are embedded in the armor on his shoulders, upper arm guards, abdomen and the tips of his shin guards. A blue plate of armor also juts out from underneath the red gem placed on his abdomen. A maroon-colored cape also flows behind Oritel from the back of the armor around his neck and shoulders. In The Secret of the Lost Kingdom and Magical Adventure, the cape is light blue with a cerulean border instead of maroon and contains more detail.
Personality
Oritel is a brave and determined man who is very protective towards his family and his people. Full of love and compassion toward his wife and two daughters, Oritel can also be overprotective of them and this goes double towards his daughters after losing them for almost two decades as a result of the Ancestral Witches' raid on Domino. As such, he is shown to be very grateful towards Mike and Vanessa upon meeting them for being the ones to raise and keep Bloom safe when he could not. His overprotectiveness can also make him stubborn and easily enraged as, for most of Magical Adventure, he refuses to let Sky explain himself for breaking Bloom's heart and even ignores Bloom's own pleas as he sets up a selection process to find another fiancé for Bloom that he can approve of. Through this, Oritel is shown to be someone who sticks close to royal traditions, but he only does so under the belief that he is keeping his family happy and safe. Once he sees that his actions have done more harm than good though, Oritel will try his best to make amends, even if the person he is trying to apologize to does not forgive him or tries to turn him away.
Oritel is also open to compromise despite his stubbornness, especially in the face of a large threat, which is made evident by his formation of both the Company of Light and the Council of Sovereigns. He is also proven to be a competent leader with how he led the Company of Light and currently leads his kingdom after its restoration. Additionally, in Issue 97 of the Winx Club Comic Series, he and Marion are described as being those unafraid of doing the right thing, even if at the cost of their own lives.
Pre-Series
Sometime during his youth, Oritel met Marion (presumably through the traditional selection process) and later married her. Whether their engagement was initially a political one or not did not seem to matter as the two enjoyed a happy, love-filled marriage together, during which they bore two daughters: the eldest they named Daphne, and the youngest, Bloom. Also, as king, Oritel became the latest keeper to the Book of Fate that was guarded by the Roc, and appointed an older man named Bartelby as his scribe.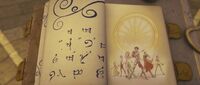 Oritel was Domino's king when the Ancestral Witches located the Dragon's Flame on his realm. Aware of the destruction and death the Witches left behind them, Oritel established the Company of Light, a group of fearsome magical warriors, alongside his wife and queen, Marion. Those who joined the Company of Light alongside them were Hagen, Faragonda and Saladin. Griffin later joined their ranks after fleeing from her previous alliance with the Witches and their son, Valtor.
As they prepared for their inevitable battle with the Witches, Oritel received a sword forged by Hagen with a spark of the Dragon's Flame inside it. He also made an alliance with his friend Erendor, requesting that he protect Domino in his stead as he and the Company of Light were away fighting against the Witches.
Unfortunately for Oritel, the Ancestral Witches caught wind of his alliance with Erendor and destroyed Havram to force him into breaking his promise, allowing for them to raid Domino. As Oritel and the Company of Light tried to fight them off, they were left to fight Valtor as the three Witches raided the castle. Daphne, his eldest daughter who he previously tasked with protecting the Dragon's Flame, passed it down to her baby sister and sent her to Earth.
The Company of Light fought against the Witches and their forces with all their might until they were successful in defeating them. Unfortunately, Oritel could not celebrate their victory as both his daughters were presumably killed in the attack; Daphne was rendered a spirit without a body and Bloom was nowhere to be found.
Just as the Company of Light were about to do away with the Ancestral Witches for good by banishing them into the dark realm of Obsidian, the trio grabbed Oritel and sucked him in with them. Marion followed Oritel to Obsidian by transferring her spirit into Oritel's sword out of the refusal to abandon him. Additionally, the overwhelmingly negative energy pouring out from the Obsidian portal sucked in all the surviving inhabitants and froze the realm over.
Inside Obsidian itself, Oritel and the inhabitants of Domino were petrified into black stone as Marion remained trapped inside Oritel's sword.
Series
Seasons
Specials
The Shadow Phoenix
Similar to his appearance in the episode "The Spy in the Shadows," Oritel appears alongside Marion within Bloom's subconscious magical journey during a session with Professor Avalon. They appear at the end of a tunnel made of smoke and call out to Bloom, who is ultimately unable to reach them when the image of a Dragon appears above them.
Movies
With Valtor long gone, the Winx pick up the search for King Oritel and Queen Marion with their first major step being to seek out Hagen, a former member of the Company of Light and the one who forged the Sword of Oritel. However, when they find him and bring him back to Alfea, Hagen tries to discourage Bloom from looking any further. Though he is surprised and relieved that one of the realm's royal heirs managed to survive, he believes everyone else, including Oritel, to have died with Domino's downfall, and does not wish to see Bloom search in vain. Hagen's words deeply wound Bloom but, after receiving comfort from Sky and her friends, as well as a dream showing her the fate of Oritel and Marion, Bloom decides to continue her search. With Daphne's Mask and the location of the Book of Fate, Bloom, the Winx and the Specialists head to Domino to help her find the Book.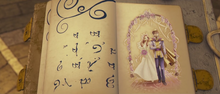 After the group manages to pacify the Roc and enter the library on its back, they are met by Bartelby, the spirit of Oritel's royal scribe, who shows them the Book of Fate. In it, the Winx learn bits of Oritel's life, from his marriage to Marion to the formation of the Company of Light, as well as how all the inhabitants of Domino survived the realm's downfall but remain trapped with the nightmarish Obsidian Dimension.
Eventually, after being stalled numerous times by Mandragora, Keeper of the Obsidian Circle and faithful servant to the Ancestral Witches, the Winx manage to enter Obsidian and combat their worst fears as the Witches try to possess their bodies. They then show Bloom the figure of a man reaching for his sword made from black stone and, to her horror, he is revealed to be Oritel himself, having been petrified for so long.
Sky, who enters Obsidian moments later, takes hold of Oritel's sword and seemingly perishes as only a "crownless king" can wield it. Bloom begins to succumb to her grief until Daphne's spirit reminds her of how she is never alone, which prompts her to wear her sister's mask one more time. Through this, Bloom and Daphne combine their powers and blast away the Ancestral Witches while Sky, who had been coronated on the night of the Winx's graduation, regains consciousness and helps to destroy the Obsidian Dimension by releasing the Sword of Oritel. With Obsidian destroyed, Domino is restored to its former glory as all its inhabitants are freed.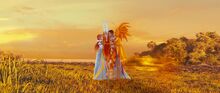 Oritel, now freed from his stone prison, takes hold of his sword to free his wife. He then reunites with his two daughters, initially upset with how Daphne was reduced to a spirit but overjoyed nonetheless. He and Marion then promise Bloom that though they were unable to be a part of her early life, they will make sure to be present for the rest of it.
Later that day, a party is held on Domino to celebrate its restoration and the royal family's reunion. Here, Oritel meets
Mike
and
Vanessa
, Bloom's foster parents, and thanks them for being able to take care of Bloom and keep her safe when he could not. He then takes Bloom's hand to treat her to the traditional father-daughter dance before giving her up to Sky, who later proposes to her.
With his kingdom revived and his family happily reunited, Oritel begins trying to take on the role of an active father to Bloom. He is first seen taking her out to the palace gardens with Marion to gift her with Peg before retreating back into the palace to let Bloom spend the rest of the day enjoying herself. By the end of the day, Oritel witnesses Sky propose to Bloom and becomes notably nervous until Marion reminds him of how he proposed to her the same way. However, as Oritel and his family prepare for Bloom and Sky's upcoming wedding (Oritel preparing the guest list), King Erendor demands that Sky call off his engagement to Bloom when he is told of it because she is Oritel's daughter. He then blames himself for all the suffering that befell Domino as he hands Sky a crystal cylindrical container to further explain why. Two days later, when news of Sky breaking off the engagement reaches the royal palace of Domino, Oritel becomes enraged and begins to believe that Sky is nothing more than an untrustworthy king much like his father. Despite Marion's warnings, Oritel takes it upon himself to announce that Bloom will be marrying another man and arrange a selection process to find a prince he can approve of. However, throughout the whole process, Bloom and the Winx try to sabotage the princes as Bloom's heart is still set on Sky. After Bloom turns down the princes and only one remains, Oritel sees through the prince's disguise, revealing him to be Sky, and becomes even more outraged over the thought that he came to play with his daughter's feelings. Despite Bloom's insistence on letting Sky explain himself, Oritel banishes Sky from Domino and forbids Bloom from ever seeing him again. He is later shocked when Bloom runs out on the kingdom to be with Sky and flees to Gardenia with the Winx through their Zoomix. As the Winx get accustomed to life without magic due to the Tree of Life being corrupted behind everyone's backs, Oritel continues ranting and raving over Sky, believing him to have coerced Bloom into leaving. He is stopped by Marion to read a note containing Erendor's confession, which helps him realize that he was the one who drove his daughter away. This leads into Oritel and Marion traveling to Gardenia to meet with Bloom's foster parents, Mike and Vanessa, to learn how to better understand Bloom as they believe they cannot since they were not around for the earlier parts of her life. Oritel then watches a slideshow of Bloom's childhood with Marion and becomes more thankful towards Mike and Vanessa than ever. Eventually, Bloom returns home with the Winx in tow but, when Oritel tries to apologize, Bloom refuses to hear him out, much like how he behaved toward Sky, and sets out to Eraklyon to save the Magic Dimension whether he approves of it or not. However, during the Winx and Specialists' trip to the ancient city of Havram, Sky explains to Bloom of what happened between their fathers that resulted in Oritel's contempt for Erendor and Erendor forcing Sky to call off his engagement to her. Later on, Oritel arrives on Eraklyon himself just in time to rescue Erendor from the Trix but, in trying to reconnect with his old friend, Oritel accidentally lets it slip that what the Trix seek lies in Havram. He then rushes to Havram with Erendor by his side and the two arrive in time to aid the Winx and Specialists against the Trix and the Ancestral Witches. Unfortunately, Oritel is rendered helpless when Icy holds Erendor hostage until Bloom and Sky are able to have Icy release him. Oritel manages to rescue Erendor before he was able to fall to his death twice until Erendor makes a surprising sacrifice by diving in front of Bloom to save her from an attack from Belladona through possessing Icy. Oritel then attacks the Witches to weaken them while riding the now magical Peg until the Winx destroy them forever in a Believix Convergence. After the battle is over, Oritel uses some of the magic pollen that had gotten on his sword to heal Erendor of his wounds. He then reconciles with his old friend and agrees to allow Bloom and Sky to see each other once more before they all leave Havram together.
Comics
Winx Club
Oritel is first mentioned rather vaguely by Bloom in the beginning of Issue 97 after having returned from the Royal Palace of Domino. Stella tries to ask Bloom how everything went as she unpacks and asks for every last detail which prompts Bloom to ask if she would like for her to start off with how she tripped over the red carpet or how she completely embarrassed herself in front of a crowd of dignitaries after forgetting her speech. She then sinks down into her bed, claiming that she is a catastrophe of a princess as she ended up doing the one thing she did not want to do: disappoint her birth parents, and Stella tries to bring Bloom's spirits back up by assuring her that Oritel and Marion will be proud of her no matter what she does. She even offers to give Bloom advice on how a princess should behave on all occasions but the two are interrupted when Roxy enters the room to see if Bloom came back from her trip.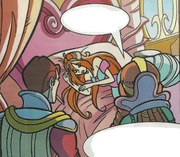 Oritel can be seen halfway into the issue after the Winx enter the Dark Dimension and are ambushed by Neruman before they can attack.
Bloom wakes up to find herself mysteriously back in her room in Domino's Royal Palace with Oritel and Marion by her bedside looking very concerned. As Bloom tries to make sense of everything, Oritel and Marion explain that Bloom already defeated Neruman but she was the only one who could escape the Dark Dimension as its portal had closed just behind her. The Fortress of Light templars managed to save her and bring her back to Domino, but the rest of the Winx were not so lucky as they all remain trapped within the Dark Dimension with no way out.
Bloom springs from her bed after hearing all of this determined to save her best friends, but Oritel and Marion do not wish to lose their daughter a second time. Oritel then snaps at Bloom by telling her that if she were to go through with this, she would not only be needlessly risking her life but would also be showing blatant disrespect towards him, and he demands that Bloom start acting like the proper princess she needs to be.
Hearing all of this helps Bloom to realize that the Oritel and Marion that stand before her are imposters as they would never say such terrible things to her and they would never fear doing the right thing even if it came at a high cost. The two imposters then charge at Bloom and attempt to hold her down to prevent her escape. As Bloom struggles to break free, Oritel and Marion's imposters reveal their true forms as two of Neruman's shadows and Bloom is able to beat them back to free herself with the help of her Believix energy and Flora's words.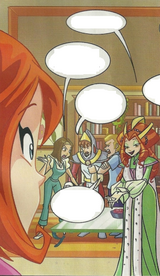 Oritel does not appear again until Issue 100 when, after being plunged into her own memories, Bloom finds herself back in front of her Gardenia home only to catch him arguing with her foster parents. It turns out that he was arguing with both Mike and Vanessa over which set of parents Bloom cares for the most and, with Bloom now with them, she is forced to decide on whether she should embrace her foster parents to reassure them or rebuke them for thinking that she stopped loving them.
If Bloom chooses to embrace her foster parents and reassure them that she will always love them as much as her birth parents, Mike and Vanessa reveal themselves to be a pair of shadow monsters. Oritel will rush to Bloom's aid with Marion and his sword in hand as she struggles to transform in vain. He is then left to fend off the shadow monsters with his wife as his daughter rushes for the front door to escape.
If Bloom chooses to rebuke her foster parents for thinking she would stop loving them upon finding her birth parents, then Oritel will stand by Bloom with Marion to praise her for standing her ground and tell her that they are all one big family. That is when Mike and Vanessa reveal themselves to be a pair of shadow monsters as they multiply at a rapid pace. Oritel is then protected by Bloom as she erects a magic shield to protect herself as well as her birth parents but struggles to hold it up. Suddenly, everything fades to black and when she can see again, Bloom finds that her birth parents are gone and that she had been teleported to the
Eraklyon Royal Palace
somehow.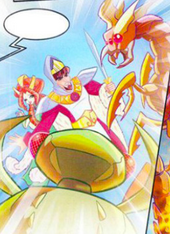 Oritel finally makes his physical debut in An Unforgettable Party alongside Marion, Daphne and Thoren as they make their arrival at the Solarian Royal Palace to celebrate the anniversary of Radius' ascent to the throne.
When chaos later erupts and Celsius' plan is uncovered, Oritel quickly unsheathes his sword to fend off the mutant insects while Marion stays behind him. He and Marion are quickly protected by Bloom's Red Dragon Orb when she comes to their rescue, only to be blasted down by a hypnotized Sky from behind.
Oritel can be seen again at the very end of the issue dancing with Marion once Celsius had been apprehended and his mutant insects properly dealt with.
World of Winx
#164: The Ice Land
This section lacks information. Please help us by expanding it
Trivia
Oritel's name might be derived from the word Orithil, which means "Moon's Day" in Sindarin, one of the Elvish languages created by J.R.R. Tolkien for the universe of his books The Lord of the Rings and The Silmarillion.
It is currently unknown whether Oritel or Marion was the one born into the Domino Royal Family.

Many signs point to Oritel having been born into the family, from him being the only one to openly wear the royal family's crest to his title as king as, if Marion were the heir to Domino's royal family, Oritel would never be addressed as a king as it would imply that he holds authority over her. Additionally, he was made Keeper of the Book of Fate which is presumably a duty handed down from heir to heir upon rising to the throne.
The only point against this is Marion's supposed use of the Dragon's Flame as showcased by her portrait kept in the Book of Fate. If she did, in fact, wield the Dragon's Flame, then that would make her the one born into the royal family as the Dragon's Flame is only entrusted to its heirs. Oritel, on the other hand, needs to use a sword that contains a spark of the Flame to wield its power. He is never seen using magic in any of his appearances which hints at how he may not be capable of using magic on his own like a wizard.
Community content is available under
CC-BY-SA
unless otherwise noted.