Orlando is a character who appears in Season 7. He is a minstrel who knows how to summon the Quillcat.
Appearance
He wears a dark pink short sleeve shirt, on a long sleeve white shirt. His trousers are olive, with strips of a darker color, and brown shoes.
| | |
| --- | --- |
| | This section lacks information. You can help Winx Club Wiki by expanding it. |
Personality
| | |
| --- | --- |
| | This section lacks information. You can help Winx Club Wiki by expanding it. |
|
Series
Season 7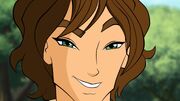 In "Back in the Middle Ages," thanks to Roxy's research, the Winx travel back in time again, in the Middle Ages of Italy in search of a Quillcat, a very old species of Fairy Animals. However, they realize that the people there at that time are very scared of magic and especially fairies. The Quillcat is in fact the one being hunted by the guards. To blend in with the local people, the fairies become a part of a small group of storytellers around the city. With the help of a minstrel named Orlando, the Winx manage to attract the attention of the fairy cat. Meanwhile, a relationship is born between Musa and Orlando. Then, Kalshara decides to take possession of the Fairy Animal with the first color of the universe by sending his brother, Brafilius in the past to follow the Winx.
Orlando decides to help the Winx in their research, but the girls will first have to help them with their show. However, Brafilius is determined to find the same Fairy Animal and he tries to sabotage the show to get a free pass. Brafilius' plan succeeds and the Winx and Orlando are forced to flee into the forest to escape the wrath of the public citizen, horrified at the sight of magic. Brafilius then has the time to kidnap the fairy cat and summon a Water Monster to attack the fairies. The girls decided to split up, the Winx deal with the monster while Musa and Orlando go to rescue Critty. Thanks to their Butterflix powers, Flora defeats the monster and Musa saves the Fairy Animal. Critty thanks Musa and the two bond with each other. Along with Aisha and Flora, Musa also decided to bring Critty back to Alfea and the fairies return back to the present. Unfortunately, Musa was forced to say goodbye to Orlando.
Trivia
The name "Orlando" is of Spanish origin and means "Famous land".
Community content is available under
CC-BY-SA
unless otherwise noted.