Kind of, but we have better style.

This Article is an A! It has all the sections and images in place, making it complete.
Pam is one of the Pixies of PopPixie. She is the Pixie of Hand Speed.
Personality
Pam is a sociable and sensitive Pixie, endowed with a strong creativity. She is the most famous hairdresser and owns the best treatment center in Pixieville. At first, Pam thinks that she does not have a talent but she gains confidence and opened her own shop after earning her MagicPop.
Appearance
Pam wears a loose ice blue tanktop with an orange and yellow orange tanktop/bustier like piece on top. Along with orange jeans, a purple belt with a gold heart in the center, wrap bracelets on each wrist, small purple bows on her buns, and lilac boots. Her skin is peach salmon and her hair is blond with lighter locks on her side bangs.
Pam wears a purple themed dress with orange skirts beneath it and an orange segment with a yellow strip in the center at her chest. Along with purple ribbons with orange flowers on each hair bun, purple bracelets, and matching shoes. She have a double pair of wings. They are orange, slightly oval, curved to the top and with purple borders.
She wears a violet blanket over her civilian attire.
Series
PopPixie
Pam first appears on "Green Attack". Thinking she had no talent and in a hurry to prove she could be a PopPixie and gain her own MagicPop, Pam tried her best cutting a tree leaves to a smile shape but she ended up destroying the tree and almost ruining the party. Pam cries a lot making the others pixies cry as well but just when she was being consoled by her friends the elves send a magic attack with angry plants on Pixieville.
Amore, Chatta, Lockette and Pam discovers that something on the tree of life's root was affecting the MagicPop's power, then, Pam starts cutting all the evil roots cleaning the source where the evil plants where coming from and by using this talent of hers for good she receive her own MagicPop and becomes the PopPixie she wanted so much. Later she opens her own beauty salon with her pet Bamboo the Hedgehog as her assistant.
Magical Abilities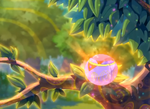 Her MagicPop power enables her to cut things quickly and cut through almost anything, change anyone's style and cut trees leaves in any shape she wants.
Trivia
Pam is ambidextrous.
Excluding Amore, Caramel, Martino and Digit, Pam is the first known Pixie to earn her MagicPop onscreen.
Community content is available under
CC-BY-SA
unless otherwise noted.