That's not how you do it!

This Episodes Article is a C! It is in need of some major changes as not all of the sections needed have been added. This article is also in need of more imagery.
A Pixie Fish is the second episode of PopPixie.
Synopsis
Netflix
Ranger Robinson invites Amore to go for a romantic swim in Lake Rainbow. Enthusiastic, she accepts without revealing that she cannot swim!
RaiPlay
For some time, Amore and Ranger Robinson seem to be interested in each other, but shyness prevents them from declaring themselves. One day Robinson invites Amore for a romantic swim in Rainbow Lake. Enthusiastic, the Pixie accepts without confessing to her beloved that she can not swim... panicked, she creates a potion which, instead of making her swim like a fish, risks turning her into a fish! The effect will be irreversible if Amore fails to dive into the waters of the Rainbow Lake before sunset. Will the Pixies be able to save their friend?[1]
Plot
This section lacks information. Please help us by expanding it.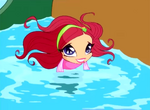 Livy is delivering letters to the people of Pixieville.
Coming Soon...
Major Events
Amore has a date with Robinson at Rainbow Lake during sunset.
Amore makes a potion to make herself swim like a fish because she cannot swim.
Amore turns into a fish because of the potion.
Debuts
Fish Potion
Jellyfish Breaths
Lockette's House
Book Magic
Water Potion
Pixieville Park
Characters
Songs
Theme Songs
Script
Trivia
This section lacks information. Please help us by expanding it.
Mistakes
Quotes
"When a Pixie is able to use his talent for good the Tree of Life gives him a MagicPop."
References