That's not how you do it!

This Episodes Article is a C! It is in need of some major changes as not all of the sections needed have been added. This article is also in need of more imagery.
Lockette's Secret is the fourth episode of the first season of PopPixie.
Synopsis
Lockette wants to make a good impression on them, so she pretends to be the most famous confectioner in Pixieville.
Plot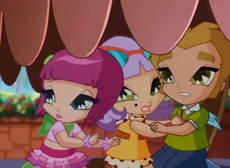 Lockette
's parents come to
Pixieville
but there is only one problem: they think Lockette is the owner of the
Molly Moo
. Therefore,
Martino
sends
Caramel
away and Lockette tries to bake a cake for her parents. She does not succeed, so she uses Caramel's
MagicPop
to bake the cake. Through all the stress, she accidentally gives the "Hercules Pie" to
Rex
,
Floxy
and
Lenny
. The
Elves
become super strong and loose their sanity. They beat up Martino, demolish the Molly Moo and try to crush Lockette and her parents with a table. At that moment, Caramel enters the Molly Moo and defeats the Elves. After they were saved, Lockette tells her parents that she was just an employee at the
Pixie Plaza
and has not earned her MagicPop yet. They tell their daughter that they were proud that she told them the truth.
Major Events
Lockette's parents pay her a visit.
Caramel transforms (for the first time in the series) and defeats the elves.
Lockette apologizes to her parents for lying.
Debuts
Lockette's Father
Lockette's Mother
Characters
Lockette's Father
Lockette's Mother
Script
Trivia
Mistakes
Community content is available under
CC-BY-SA
unless otherwise noted.