That's not how you do it!

This Episodes Article is a C! It is in need of some major changes as not all of the sections needed have been added. This article is also in need of more imagery.
Save the Bumble Monkeys is the twelfth episode of the first season of PopPixie.
Synopsis
Chatta's favorite singer, Justin Nimble, is singing at a charity concert to benefit the Bumble Monkeys. To draw Justin's attention, Chatta adopts one.
Plot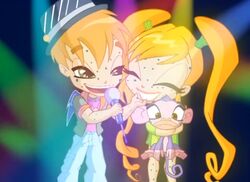 When Chatta heard that the famous pop star Justin Nimble was coming to Pixieville to organize a charity concert for the Bumble Monkeys, she wants to impress him. But Fixit said she knows nothing about the Bumble Monkeys, so she and her friends go on a safari trip to learn about them. At the end, their guide told them that Justin loves to adopt the monkeys. So Chatta decided to also adopt one. But their was only one slight problem: she was allergic to the little Monkey. With the help of Fixit's technology, Chatta's allergic reaction was camouflaged. At the concert, Justin saw Chatta with the Monkey and asked her to come on stage. But an Elf let her stumble and her camouflage was gone. On stage, Justin saw Chatta was allergic and told her that he was also allergic. The episode ends when Justin sings the song "Bumble Monkey" and Chatta says this was the greatest day of her life.
Debuts
Characters
Unnamed Gnome bus driver
Bumble Monkeys
Script
Trivia
Mistakes
In the Cinélume version, during the title card, the word "Monkeys" is spelled incorrectly as "Monkey's".
Community content is available under
CC-BY-SA
unless otherwise noted.