That's not how you do it!

This Episodes Article is a C! It is in need of some major changes as not all of the sections needed have been added. This article is also in need of more imagery.
Super Toy is the fifteenth episode of PopPixie.
Synopsis
Fixit realizes that a toy prototype that he built for Augustus' shop is dangerous. In order to avoid damage, Fixit tries to deactivate it.
Plot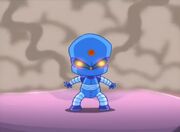 At the Toy Shop, Augustus wants to sell something to a mother whose child demolish all his toys. So Fixit thought about his newest invention: a indestructible toy. But Fixit was afraid the toy really lives, so he refused to let Augustus sell him. At his home,Fixit decided to destroy his creation. But the Super Toy tried to run away, so Fixit blow him up with dynamite. But only his "skin" was burned off and his exoskeleton was shown. The Super Toy tried to beat Fixit, but with the help of his MagicPop, Fixit destroyed the electronic brain of the robot. But in the deactivated eyes of the Super Toy, a faint light of vengeance to his creator still shines.
Debuts
Characters
Script
Trivia
Community content is available under
CC-BY-SA
unless otherwise noted.