That's not how you do it!

This Episodes Article is a C! It is in need of some major changes as not all of the sections needed have been added. This article is also in need of more imagery.
An Elf in School is the seventeenth episode of the first season of PopPixie.
Synopsis
Two Elves take their unbearable son to Tune's school so she can keep an eye on him for a few hours.
Plot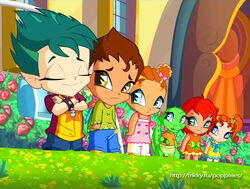 At the beginning of the episode,
Tune
was visited by a couple
Elves
. They told her about their son (
Damien
) who bullies his friends and destroys all the devices in their house. When they ask for help from Tune, she asks them why will not they send Damien to a school (but they do not know what a school is). After that,
Damien's Father
calls for Damien and introduces him to Tune. But when Tune is watching Damien, his parents ran away to go to a Elves-only party: they used Tune as a free babysitter. After this, Tune introduces the little Elf to the other pupils and told about the "Talent day" to use there talent wisely and earn their
MagicPops
. Damien saw this as the ideal change to ruin the changes for the little
Pixies
to earn their PopPixie Powers. After he succeeds in the sabotage three of the pupils, a shy Pixie named
Camilla
decided to use her talent to scare Damien away by letting him believe that she is a ghost. Camilla earns her MagicPop by doing this and became the Pop Pixie of illusion.
Major Events
Debuts
Characters
Trivia
Community content is available under
CC-BY-SA
unless otherwise noted.