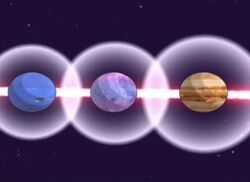 Rot
is a planet introduced in
Season 2
.
Overview
Rot is one of the three sacred planets that, according to the prophecy of Serius Facetus, must align for their power to extend throughout the universe in order for the Creature of Destruction to usher in doom and destruction.
Series
Season 2
In "Professor Avalon's Secret," a prophecy mentions three sacred planets' alignment causing total chaos. Digit mentions the name of the three planets: Orez, Fallat, and Rot, which are revealed by Griffin to be part of an ancient planetary system. Faragonda later reveals that Serius Facetus was a comedian from two centuries ago, rendering the prophecy false.
Trivia
Community content is available under
CC-BY-SA
unless otherwise noted.