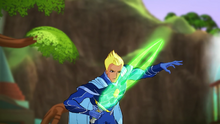 The Sword is Roy's magical weapon. It is first seen in "The Flying School".
Appearance
It is a bright green sword with two separate blades attached to the handle.
Series
Season 6
In "The Flying School", Roy receives his sword and uses it in his battle against Nex.
Comics
#124: Attack of the Centaurs
Roy brandishes his sword as he gets ready to help the Paladins and his fellow Specialists hold off the army of Centaurs so that the Winx can help safely direct the panicking fair-goers to safety. He later opts to use his Sand Shield.
Magical Abilities
It can release rays of green electricity.
Gallery
Community content is available under
CC-BY-SA
unless otherwise noted.