Wow, did I just say that?

This article is a B. It is missing three or fewer sections, or some images need to be added. Please do what you can to help!
Roy is a yacht driver who appears in Season 5.
Personality Profile
Roy works for Aisha's father. He drives a yacht that can travel to any body of water in the Magic Dimension.
Appearance
Roy has dark skin blond hair and dark grey eyes. He also has a very muscular body as seen in the series at his arms.
Yacht Driver
Coming soon...
has a secret crush on aisha yuck!
Civilian
Coming soon...
Seasons
Roy first appears in 
The Power of Harmonix
 where he drives a yacht in a body of water, so
Aisha
and the girls could get to
Andros
. He then appeared appeared in
The Shimmering Shells
 where he said he would come with the girls but Aisha said no. He then appeared at the party at
Alfea
with two drinks in
The Secret of the Ruby Reef
 and one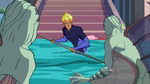 of them was to give to Aisha, but his plans changed when Stella brought three
Specialists
and Aisha got angry because she didn't want to dance. He assisted the
Winx
to help find the
Gem of Empathy
in Data Bridge castle on
Zenith
,
Tecna
's home planet. As seen in episodes 24 and 25, Aisha and Roy have developed romantic feelings for each other.
Trivia
Due to the fact that he was wearing a Specialist cape at the party at Alfea, he may in fact be a Specialist and he might assist the Winx on more missions.
Roy is rumored to replace Nabu as Aisha's boyfriend, as seen in Episode 8, where he wants to share a drink to cheer up Aisha, though the question if Nabu is returning in season 6 is unanswered for he will not return in season 5.
Roy also has the ability to use magic - Triton Force - which allows him to breathe underwater.