Winx Club Forever

This article has been completed. Only edit it if you think it can be improved.
The
Royal Deeps
is a big cave where the light of the deeps can be found.
Overview
It is a big cave where the light of the depths can be found. There is a silver shield, which reflects the light from above that lights up the dark depths of the Ocean of Solaria. The shield also wields the Gem of Self-Confidence.
Series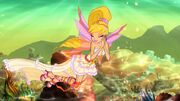 Tritannus
visited Solaria, after taking
Illiris
' powers and entering the Ocean Gate from
Andros
. After
Stella
figured out that the Gem of Self-confidence is somewhere in the Royal Deeps the Winx came to the oceans of Solaria to find it. They soon met a Selkie called
Illiris
, who is the gatekeeper of Solaria. It is here where
Stella
bonds with
Illiris
, restoring her powers that
Tritannus
took from her. They then go into a cave where they face a mutated jellyfish which has been under
Tritannus
's pollutions influence. It turns
Flora
into stone, however
Stella
finds a shield with the Gem of Self-confidence and uses it to reflect the "stone look" back to the jellyfish, turning it into stone. She then uses the shield again to break the curse from
Flora
. After taking the
Gem of Self-Confidence
, all the Winx acquire it into their
Sirenix Boxes
.
Gallery
Community content is available under
CC-BY-SA
unless otherwise noted.