It's time for a new look!

This page is currently under maintenance. Therefore, please refrain from editing temporarily until the page is finished. We hope to have the page completed as soon as possible.
Winx Club Forever

This article has been completed. Only edit it if you think it can be improved.
This article is about the Fairy Form. You may be looking for the dolls.
Sirenix is the second Fairy Form introduced in Season 5. It is parallel to Harmonix.
Overview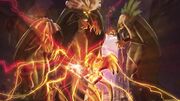 In Season 5, the Winx meet with Faragonda to discuss their newfound knowledge of their Believix powers being less effective underwater, and they learn that they must acquire Sirenix in order to defeat Tritannus. Faragonda tells them that Sirenix is an ancient power that was born of the magic of the oceans, and that no one has acquired Sirenix for a long time.
She informs that that in order to begin their quest, they must find the Sirenix Book, but the only person who knows its location is Daphne, Bloom's sister and the last fairy to acquire Sirenix. When Bloom asks Daphne about the location of the Sirenix Book, Daphne tells her not to look for it because it is dangerous. When the Ancestral Witches attacked Domino, she acquired Sirenix and was ready to use it against them but the Ancesral Witches had placed a spell on Sirenix and when Daphne tried to use it, it turned against her and caused her to become a spirit without a body. Bloom ends up persuading Daphne, who reveals that the Sirenix Book is in the Magic Archive of Alfea.
The Source of Sirenix is found in the cave where Daphne dwells in Lake Roccaluce which protects Sirenix and grants it to fairies who have completed the Sirenix Quest. Due to the curse, if a fairy does not complete the Sirenix Quest within one lunar cycle, they will lose their powers forever.
In Season 8, it is revealed that due to the magical ice on Dyamond, Sirenix can adapt to the area's weather, changing its form into Crystal Sirenix. According to Tecna, it has a high degree of adaptability.
Requirements
Sirenix
In order for a fairy to earn Sirenix, they must find the Gem of Self-Confidence, the Gem of Empathy, and the Gem of Courage. After that, they need to activate the magic spring of Lake Roccaluce by using the Source of Sirenix.
Dark Sirenix
It is unknown if a witch can earn Sirenix by completing Sirenix Quest or not as it is a fairy power. In the Trix's case, after Tritannus forced Daphne to tell him where the source of Sirenix power was, Tritannus headed to Lake Roccaluce to destroy the Source of Sirenix, so her Sirenix cannot be protected from being stolen by him. After he destroyed the source, Tritannus absorbed Daphne's Sirenix powers and used his trident to grant the Trix Sirenix powers, which were mixed with his pollution powers.
Sirenix Clues
The Sirenix Clues were riddles given to the Winx to find the gems of Self-Confidence, Empathy, and Courage.
Magical Abilities
Sirenix grants its possessor access to the Infinite Ocean and gives fairies and witches the ability to use their magic easier in midair, on land, and underwater. It also helps them to swim faster.
In Season 8, it is revealed that their Cystal Sirenix power grants them another ability, the Crystal Sirenix light, which allows them to see the darkest part of the ocean.
Special Sirenix Powers
With Sirenix, a fairy has a power that can be used in specific situations. Every fairy has a different type of this power:
Effects
Every girl has a water bubble special effect when their wings flutter.
Sirenix Wish
Once gaining Sirenix, a fairy is given a wish which she can ask her Guardian of Sirenix to grant once she has pleased destiny.
Musa has never used her wish. It is also unclear if she has pleased destiny.
Sirenix Curse
Sirenix was cursed by the Ancestral Witches, turning Daphne into a disembodied spirit and Politea into a ravenous monster. The curse also caused the Sirenix power to turn against Daphne when she tried using it to defend herself from the Ancestral Witches. The Sirenix Curse could punish the possessor physically, as revealed when Tritannus was attacked by the Emperor's Throne and Daphne revealed that it is the effect of the Sirenix Curse. Later, by using her Sirenix wish, Bloom breaks the curse put on Sirenix.
Ways to Acquire
Trivia
Transformation Sequences
Community content is available under
CC-BY-SA
unless otherwise noted.