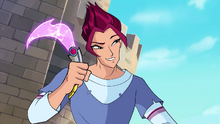 The Solar Boomerang is Riven's magical weapon. It is first seen in "The Flying School."
Appearance
The Solar Boomerang initially appears as a small metal hilt topped with a magenta-colored orb. When activated, the other half of the boomerang materializes as magenta-colored energy in the shape of a curved dagger's blade.
Series
Season 6
In "The Flying School", Riven receives the boomerang. Then, he uses against the Treants when Selina woke them up while claiming that their new weapons rocks.
In "Bloomix Power," he uses against a Flying Basilisk by deflecting its petrifying ray.
In "The Golden Auditorium," Riven is seen training with his boomerang.
In "The Secret Greenhouse," the boomerang appears when Riven claims that he still wants to do more training with it.
In "Zombie Invasion," he summons it to use it in a challenge with Sky which later ended knocking out Roy's coconut drink. He then uses it against the Pirate Zombies when they come to take back the Fantasy Emerald.
In "The Curse of Fearwood," Riven summons it to train with it then prepares to attack the Werewolves summoned by Selina with the boomerang.
In "The Magic Totem," the boomerang is seen when Riven turns it off when the werewolves returned back to normal.
In "The Music Cafe," Riven is seen training with his boomerang until Musa started feeling annoyed, snatches it and claims that he has not been paying any attention on her since he got his new weapon. He then uses it against the Morphix Targets during a battle with Sky. Later, he uses it against Rumpelstiltskin but failed due to a protective barrier surrounding him.
Comics
#124: Attack of the Centaurs
Riven can be seen whipping out his Solar Boomerang against an army of Centaurs alongside the Paladins and his fellow Specialists to help back up the Winx as they prioritize protecting the panicking fair-goers.
Magical Abilities
The Solar Boomerang can be used to block magical rays. It can also can be used to knock down opponents like a normal boomerang. While in use, it sometimes releases a pink ray of energy around the target.
Trivia
In "Bloomix Power," while using it to attack, Riven refers it as "Solar Boomerang Blast".
Gallery
Community content is available under
CC-BY-SA
unless otherwise noted.