Kind of, but we have better style.

This Article is an A! It has all the sections and images in place, making it complete.
Stormy is a witch who is the youngest of the Trix, a trio of witches. Among the three, she is the most aggressive and self-confident, always believing herself to be the strongest out of her and her close friends, Icy and Darcy. She was also a former student of Cloud Tower as she, Icy and Darcy were expelled in the episode "Cold Spell."
Appearance
Stormy is a woman with a tanned complexion, teal eyes, and frizzy dark purple hair that is shaped like a cloud with paler bangs which flow down to and rest on her shoulders in the shape of lightning bolts. A small hair can also been seen peeking out from the very top of her head. As for her makeup, Stormy is always seen in dark pink eye shadow and lipstick.
In the episode "The Show Must Go On!" shows that Stormy's hair reaches down to her shoulders when straightened.
Civilian
Main article: List of Stormy's Outfits
Her attire consists of a fuchsia-colored crop-top with no straps as the only thing holding it up is its attachment to a matching fuchsia choker through the small metal ring that rests at the center of her top, a purple miniskirt that is tied to her waist (noted by the knot resting over a slit located at her left hip), and matching purple sandals with high heels.
Witch Forms
Main article: List of Stormy's Outfits/Witch Forms
Stormy's various Witch Forms come in shades of fuchsia, magenta and red; more so representing her anger and terrible temper than her powers.
Personality
As her name and powers would infer, Stormy is a loud and wild young lady who is very quick to anger and rage. Even the most minor of annoyances usually lead to Stormy violently lashing and, out of the three sisters, she is the master when it comes to holding grudges. Cases of this range from trying to settle the score from a previous battle by either attacking more violently or even disguising herself to catch the object of her vengeance off-guard. In fact, the latter case occurred only because Musa was able to dispel of her storms in the episode "Battle on Planet Eraklyon," which damaged her pride since she believes herself to be the strongest. Despite how prideful she is, Stormy is often tormented by Icy whenever she gets the chance, thanks to her status as the youngest sibling. However, Stormy makes it a habit to regularly harass her older sisters, mainly out of boredom.
Sharing her sisters' lust for power, Stormy stands out as possibly the most power-hungry of the Trix, as she always remains more than eager to get her hands on more powerful magic. Coupled with her immaturity and pettiness, Stormy often rushes head-first into situations to prove herself to be the "Queen of Storms" she titles herself as. Because of this, she lacks the craftiness of Darcy, or even Icy. Stormy has a lot of power, and uses hers in extreme bursts, without planning ahead at all. Thanks to her constant desire to prove that she is the strongest witch around, Stormy rarely ever thinks ahead, preferring to charge in head-first and overwhelm her enemies with powerful and destructive attacks. She will even escalate small exchanges into a serious fight if she is annoyed enough.
Series
Seasons
Specials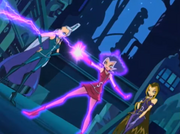 Stormy and her sisters harshly rebuke Knut for his failure to steal Stella's scepter. She then becomes intrigued when Knut mentions another powerful fairy who aided Stella. They then meet up with Knut in an alley as he provides them with information about Bloom. Stormy becomes irritated when Darcy discovers an eavesdropper, which Bloom herself. Angered that she was eavesdropping, Stormy and her sisters attack her, until she is eventually frozen by Icy. But then Stella, Musa, Tecna and Flora come to their friend's aid and the two opposing sides square off. The Trix have the upper hand, both in experience and power. Though the fairies were able to hold their ground, Stormy's lightning blast knocked them off their feet. While Icy prepares her final attack, Stella summons her scepter and teleport her friends to safety.
After an unsuccessful battle, Stormy and her sisters arrive at Alfea, hoping the school had been empty to do some damage. However, they learned that was not the case and when Icy says she wants to summon their vacuums. Stormy questions her because they were made to find and capture powerful mystical energies. After Icy explains that she feels that power energy is somewhere they summon them and begin their search, while sending the Whip as a distraction should their enemies try to interfere. As they search around the school, following their vacuums, the Trix come across an unconscious Riven who had been knocked out by the Whip. When Darcy expresses interest in him, Stormy sees him as pointless and that this is waste of time. Icy does see some potential use in him however but will think about it. They continue their search and end up in Faragonda's office. They are then surprised by their enemies and both sides question their presence in the office. Then Faragonda enters the office and questions them. After getting caught, Stormy is reprimanded and she is returned home with her sisters by Faragonda.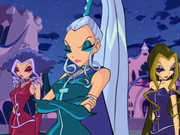 Having a high suspicion that Bloom is the Keeper of the Dragon's Flame, Stormy summons her vacuum which is then connect with her sisters' vacuums; allowing them to teleport into Bloom's simulation test. They fight hard against her, hoping to force her showcase her true might; eventually, they do as Icy strikes a blow below Kiko's feet and the bunny falls into the lava-ridden fractures. This enrages Bloom enough to use her powers at the highest level which destroys the simulator and kick the Trix out of the simulator as well. Proving their suspicion correct, Stormy cackles triumphantly with her sisters.
She appeared in this special and shared Bloom's power with the other Trix.
She was defeated by the Winx in this special and was send to the Fortress of Light with her sisters.
Following her arrest at the end of "The Battle for Magix," Stormy is shown suffering while serving out her sentence within the protective walls of the Lighrock Monastery due to its overly peaceful environment, as well as the numerous attempts at escape that came up in smoke. Luck soon smiles upon the Trix in the form of Lord Darkar, the Shadow Phoenix, when he breaks into the Monastery intending to make them into his newest underlings. Since he was the one to free them, the Trix agree to Darkar's terms and are promptly bestowed the power of Gloomix. Afterwards, the witch trio learn that Darkar desires to obtain a mysterious relic known as the Codex, which is said to be hidden within the already enigmatic Pixie Village.
The next time Stormy and her sisters appear is just outside of Darkar's Fortress within Magix's Underground Realm, ready to confront Bloom, Stella, and their new friend, Princess Aisha of Andros, and test out their new powers. The Trix easily overpower the three fairies with their Gloomix powers but, before they can get rid of them for good, the witch trio is suddenly taken out by a powerful spell cast by a mysterious paladin.
Later on, after Icy manages to locate Pixie Village and steal the Codex within it, the Trix are told by Darkar that the next stage in his plans requires an untainted spark of the Dragon's Flame that is kept within Bloom.
Once Darkar captures Bloom, the Trix are tasked with fending off anyone who comes to rescue her, so the witch trio sends out all the shadow monsters within Darkar's forces to attack the
Specialists
. Unfortunately for the Trix, none of their attacks hold out for too long, and they are eventually subdued, apprehended, and sent back to the Lightrock Monastery to serve an even larger sentence for allying themselves with Darkar.
Movies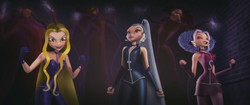 Stormy and her sisters appear in the very last scene of The Secret of the Lost Kingdom following the destruction of Obsidian.
Though defeated, the
Ancestral Witches
were freed from their imprisonment within the Obsidian Dimension unintentionally thanks to the
Winx
's efforts, and the Witches quickly use their newfound freedom to seek out new bodies to possess so that they may destroy the Winx at a later time. Their search ultimately leads them to their modern descendants, the Trix, with whom they begin conspiring with; signaled by all six of them cackling maniacally.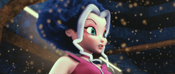 She returned again in the second movie, where she and the Trix sneak into Alfea during the beginning of year festivities, fighting the Winx (minus Bloom) while Darcy stole a magical compass which they used to lead the Ancestral Witches to the Tree of Life found in the Pixie Village.
The Ancestral proceeded to absorb all the essence of Good from the Tree, causing all good magic to disappear, and only dark magic to keep on existing. At the end of the movie, the Winx Club, the Specialists, Oritel and Erendor arrive at the haunted city of Havram to find the sapling of the Tree of Life which the Ancestral gave to the king of Eraklyon as part of the deal which forced him to betray the promise he made to Oritel(that he would protect Domino against the Ancestral Witches) by allowing the three Ancestral Witches to destroy Domino in exchange,they would spare Eraklyon.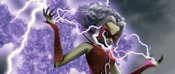 There, the Trix and their Ancestral were waiting for them, but the Winx girls gained back their powers and Bloom's horse, Peg, became a flying unicorn thanks to the magical sapling, which restored all the Good Magic of the Magic dimension after being hit by an attack of Icy initially aimed at Bloom. Finding the Trix to be ineffective as vessels to defeat the Winx and as punishment for releasing the Good Magic, the Ancestral Witches try to possess the Trix, but as they attempt to flee, the old witches capture them and possess their bodies. The Trix, now possessed by their ancestors, have become more powerful than ever, as well as mere puppets possessed by the Ancestral Witches.
The Winx, the Specialists, Oritel and Erendor take part in the battle, but Erendor is severely wounded trying to save Bloom from Icy -
Belladona
. Finally, using a
Believix
convergence
, the Winx Club are able to summon the essence of the
Great Dragon
and extract the Ancestral Witches from the bodies of the Trix.
Dragon's Flame
's power destroys the Ancestral Witches for good, and the Trix, defeated, fall unconscious to the ground.
Helia
ties them with a rope and, as the movie ends, they are shown as being suspended from the flying ship the Winx, the Specialists, Oritel and Erendor use to leave Havram, getting angry as Bloom and her friends fly around them and tease them.
This section lacks information. Please help us by expanding it.
Comics
Pre-Series
As revealed in Darko the Black, Stormy and her sisters, Icy and Darcy, hailed from a realm known as the Ice Kingdom. There, they spent a majority of their childhood, during which they befriended Darko, only son to the powerful First Counselor Mazakis of the Kingdom's Royal Court.
Stormy often played with Darko alongside her sisters to the point of becoming his regular playmates but, once they were old enough, Stormy, Icy and Darcy left the Ice Kingdom for Magix to pursue their dream of becoming powerful witches. The first step towards such a goal involved attending the Cloud Tower School for Witches.
Series
Curiosities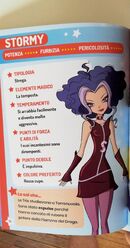 "Did you know that the Trix studied at Cloud Tower and were expelled because they tried stealing the power of the Dragon's Flame?"
STATS: Power (4/5); Craftiness (5/5); Dangerousness (5/5)
Type: Witch
Magical Element: Storms
Temperament: "She gets angry easily and becomes very aggressive."
Strengths and Abilities: "Her spells are disruptive."
Weakness: "She's impulsive."
Favorite Color: Dark Red
Magical Abilities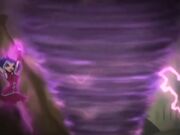 True to her name, Stormy possesses the ability to create and control storms in all of their aspects; ranging from harrowing winds to rage-powered lightning bolts. Like all witches, Stormy derives her powers from the negative aspects of magic, but a promo for the 4Kids dub specifies the source of her magic to be derived from centuries of fighting and conflict.
Stormy's spells all take the forms of tornadoes, storm clouds and lightning bolts; all of which cause large amounts of damage, no matter how minor the spell is. Stormy is even capable of manipulating other objects through various ways, such as by using the strong winds of her tornadoes to pick things up and throw them about, or by using electrical shocks to engage in subtle mind control. Her magic is often seen as being bright purple to even red in color, and when getting a power boost from Tritannus (and Poletia) she was seen with a toxic/neon green aura.
As a senior witch at Cloud Tower during her Season 1 debut, it is safe to assume that Stormy may know some basic, first-level spells that all witches can use, such as telekinesis, transmuting objects, fixing minor messes and flying. The Winx Club Comic Series also suggests that Stormy possesses the ability to manipulate gaseous substances as she can be seen generating helium to blow up a hot-air balloon in Issue 20, and emitting a sleeping gas on the pixies in Issue 26.
By Season 3, Stormy showcases the ability to create much stronger storms with more control over their direction through the use of a magical fan. She has shown the ability to create various natural disasters such as a small tidal wave capable of flooding pixie village and creating a storm clouds to transform into her witch outfit. She is also given the ability to create Storm Harpies: half-women, half-bird creatures that can also create their own wind gusts. Stormy herself can also be seen generating limited earthquakes that are usually the results of her severe storms; something she shares in common with Darcy.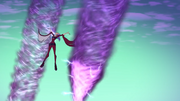 Throughout the seasons, Stormy's powers grow stronger, which is made evident by her more focused and potent lightning bolts, some of which she can even use to tie up her opponents along with creating an electrical force field. She also showcases the ability to create multiple tornadoes at once with ease as seen with her Double Tornado spell; a comparable improvement to when she needed absolute focus to create two of them at the same time in the episode "Bloom's Dark Secret." Her powers over electricity are enhanced in the Season 6 episode "A Monster Crush" when she enters the Legendarium World to assume the role of the Bride of Frankenstein's Monster, and the rest of her powers receive a significant boost following Stormy's merge with Occula upon absorbing a large quantity of Wild Magic in Season 7.
Uses of Magic
"We shall be as we once were. There was no explosion. No explosion.": the incantation for the safety shield spell, used in Season 1 Episode 6 to revert all the effects caused by the Trix's attempt to draw out the Ring of Solaria's power.
Trivia
Stormy disguised herself as a fairy two times.
Stormy is the only member of the Trix that has never been in a romantic relationship as of yet, since Darcy dated Riven briefly in Season 1 and Icy dated Tritannus in Season 5.

Stormy has fallen for someone before and that was Valtor in Season 3, as she would often fight amongst her sisters for his attention and even confessed to liking him to Icy while under a positivity spell that was placed on her. This crush went unrequited as Valtor strung her and her sisters along.
In the comics, this also extends to Darko, a childhood playmate of hers and her sisters'. After finding out that he and his father had fled to Magix in Darko the Black, Stormy constantly fought with Icy and Darcy over who Darko should date, however, her feelings for Darko might be the weakest amongst the trio, as she spent more time teasing and picking on either Icy or Darcy depending on the situation at hand.

Interestingly enough, Stormy showcases an interest in Brandon in short scenes scattered throughout the comic series; specifically, in Lost Words, where Stormy laments over being unable to bear seeing Brandon without any provocation. She then promptly lashes out at Darcy for teasing her about wanting to get "a good look at him," believing otherwise.

Tecna, Nebula and Stormy all have a spell called Electric Storm.
In the Cinélume version, Stormy has the same voice actress as Musa even after the casting change in Season 3.

Stormy's second Cinélume voice actress, Anik Matern, also voiced Musa's mother in Season 2.

Stormy's 4Kids voice actress, Suzy Myers, voices Roxy in the DuArt Film and Video dub of Season 7.
In "Dance Contest on Melody," it is revealed that Stormy is a five times Dance Witch champion.

She is a star in the world of dark dance competitions.
Community content is available under
CC-BY-SA
unless otherwise noted.