Kind of, but we have better style.

This Article is an A! It has all the sections and images in place, making it complete.
Stormy is a witch who is the youngest of the Trix, a trio of witches. Among the three, she is the most aggressive and self-confident, always believing herself to be the strongest out of her and her close friends, Icy and Darcy. She was also a former student of Cloud Tower as she, Icy and Darcy were expelled in the episode "Cold Spell."
Appearance
Main article: List of Stormy's Outfits
Stormy is a woman with a tanned complexion, teal eyes, and frizzy dark purple hair that is shaped like a cloud with paler bangs which flow down to and rest on her shoulders in the shape of lightning bolts. A small hair can also been seen peeking out from the very top of her head. As for her makeup, Stormy is always seen in pink eyeshadow and dark pink lipstick. Her attire consists of a fuchsia-colored crop-top with no straps as the only thing holding it up is its attachment to a matching fuschia choker through the small metal ring that rests at the center of her top, a purple miniskirt that is tied to her waist (noted by the knot resting over a slit located at her left hip), and matching purple sandals with high heels. The episode "
The Show Must Go On!
" shows that Stormy's hair reaches down to her shoulders when straightened.
Personality
As her name and powers would infer, Stormy is a loud and wild young lady who is very quick to anger and rage. Even the most minor of annoyances usually lead to Stormy violently lashing and, out of the three sisters, she is the master when it comes to holding grudges. Cases of this range from trying to settle the score from a previous battle by either attacking more violently or even disguising herself to catch the object of her vengeance off-guard. In fact, the latter case occurred only because Musa was able to dispel of her storms in the episode "Battle on Planet Eraklyon," which damaged her pride since she believes herself to be the strongest. Despite how prideful she is, Stormy is often tormented by Icy whenever she gets the chance, thanks to her status as the youngest sibling. However, Stormy makes it a habit to regularly harass her older sisters, mainly out of boredom.
Sharing her sisters' lust for power, Stormy stands out as possibly the most power-hungry of the Trix, as she always remains more than eager to get her hands on more powerful magic. Coupled with her immaturity and pettiness, Stormy often rushes head-first into situations to prove herself to be the "Queen of Storms" she titles herself as. Though, thanks to her constant desire to prove that she is the strongest witch around, Stormy rarely ever thinks ahead, preferring to charge in head-first and overwhelm her enemies with powerful and destructive attacks. She will even escalate small exchanges into a serious fight if she is annoyed enough.
Series
Seasons
Stormy first appears in the pilot episode, "An Unexpected Event," as a spectral entity, but does not make her physical debut until the following episode, "Welcome to Magix!"
While meeting with Knut in an alleyway in Magix City in the hopes that he would have retrieved Stella's magic sceptre, Stormy, along with her eldest sister, Icy, is notified by Darcy of how they are being watched by someone, so she stays put as Darcy goes on to deal with the little spy. Once Bloom has been outed, Stormy sends a tornado Bloom's way after her sisters have scared her stiff with their own displays of magic, which sends the fledgling fairy flying up to the ledge of a nearby building, where she hangs helplessly before Icy drags her back down and freezes her.
When Bloom's friends come to her rescue, Stormy recognizes Stella as the owner of the sceptre they are after and, after Knut fails to pressure them, Stormy shoots a lightning bolt at the group of fairies, completely destroying Tecna's Firewall, which blows the group back. Before Stormy and her sisters could get serious, however, Stella teleports herself and the Winx away with her sceptre once Bloom had been properly rescued. This confrontation would later prove to be the first of many that the Trix would have with the Winx, who would come to act as constant thorns in their sides in their pursuit for Stella's sceptre.
In fact, by the following episode, the Trix go on to sabotage the dance being held at Alfea to welcome the incoming freshmen fairies. Though their sabotage plans fall through thanks to the Winx's meddling, the Trix nearly get their hands on Stella's ring and almost get rid of Bloom in the process. However, unfortunately for the trio, Bloom unlocks her magical powers by gaining the ability to transform and flees with Stella's ring, leaving the Trix to fall for a trick of the Winx's own making that gets them stuck with a duckling who imprints on Icy.
Though their disdain for the Winx grows, the Trix focus on remaining undiscovered by the authorities. All throughout "The Black-Mud Swamp," the Trix enact their plan to free the Hunting Troll that had been captured on Earth and dispose of it to keep it from confessing everything it knows of them and their plans. Even as the Troll roams around the titular Black Mud Swamp in the middle of a training exercise for the Alfea Fairies, the Trix are successful in luring away from the Specialists and into a hidden location within the Swamp, where it is promptly disposed of.
With that major threat out of the way, the Trix set their sights back on obtaining Stella's ring, and use her overly enthusiastic feelings for a certain Specialist to lure her out on her own in "Date with Disaster." Leaving Darcy to her specialty, Stormy and Icy keep Stella prisoner as Darcy infiltrates Alfea disguised as the Solarian princess for her ring.
Eventually, the Winx play into their hands when they arrive to the abandoned building on the outskirts of the city. There, the Trix pressure the Winx into giving up Stella's ring for her life, which Bloom agrees to, finally allowing for it to fall into their clutches. Now with the ring in their possession, the Trix and Knut warp back to Cloud Tower, where the three witches meditate in the hopes of bringing out the ring's power. Unfortunately, it does not work and only confirms that the power they seek was never hidden within the ring to begin with.
By the episode "Friends in Need," Stormy and her sisters learn of how the Winx intruded in on their shared dorm room and immediately plan to pay the five fairies back for humiliating them in such a way. However, since they tried to formulate a plan publicly within the school's cafeteria, the witch trio is interrupted by Mirta, who cannot understand why witches and fairies cannot just get along. Hearing Mirta's desires to mend the relationship between fairies and witches causes Stormy to burst out laughing as she and her sisters go on to rebuke Mirta, humiliating her in front of the whole student body.
By nightfall, the Trix teleport themselves onto the Alfea Quad to trash the school and pay back the Winx, but are caught off-guard by the presence of the Winx as well as Specialists since the school was supposed to be cleared out. To work around them as they search for the Dragon's Flame, the Trix combine their powers to conjure up a minotaur to distract the Winx and Specialists as they follow their Vacuums in search of the Flame, completely unaware of how their Vacuums constantly lead them in the direction of the two groups they are actively trying to avoid.
During their search, the three witches come across an unconscious Riven. As Darcy finds herself drawn to the boy, Stormy only sees some "average-joe idiot" who serves to just waste their time. Though Icy believes that they can use him later, the three witches quickly resume their search for the Flame.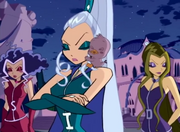 Eventually, the Winx and Specialists are alerted to the Trix's presence and the three witches are promptly caught by Headmistress Faragonda, who scolds them and has them sent back to Cloud Tower as she notifies Griffin of their actions. And so, in the beginning of "A Friendship Sundered," the Trix face another scolding at the hands of Griffin, irate with how they humiliated themselves as well as herself. Although, rather than facing punishment for their little stunt gone wrong, the Trix are given one more chance to ruin the blossoming alliance between the Specialists and fairies.
To accomplish this, the Trix have Knut disguise himself as Timmy during the Rose Festival and have him give a special helmet to Bloom to give to Riven as a peace offering to make up for her having blown up at him earlier. Once Riven accepts and wears the helmet during the Race for the Rose, Stormy and Icy oversee the race as Darcy readies herself to put the rest of their plan in motion.
Stormy immediately notices when Darcy begins to worry over the idea of Riven getting into an accident during the race and calls her out for having fallen for him. She then laughs with Icy as she playfully teases Darcy for getting "schmaltzy" on them before they let her to infiltrate the Race for the Rose.
Though she gets aggravated with Bloom's attempts at ruining their plans, the Trix ultimately succeed in ripping apart the fire fairy's friend group with Riven's leave. Stormy and Icy leave Darcy to further pull Riven to their side by feeding into his attraction to her as well as his own desire to have his strengths receive the acknowledgement he believes he is owed.
During a date Darcy and Riven have in a café unofficially recognized as Cloud Tower Witch territory somewhere in Magix City, Stormy and Icy find Musa peering into the café window and confront her over spying on their friend. Despite Musa's attempts to leave, Stormy and Icy begin to tease and belittle her, using her crush on Riven against her by insisting that he feels nothing for the musical fairy until Musa snaps and retaliates back with a slap across Icy's face.
Almost impressed by the action, Stormy marvels at the handprint Musa left on Icy's face and asks her sister if it hurts. She then joins Icy as she rallies the rest of the witches inside in chasing Musa throughout the city to teach her a lesson through a little payback.
The chase escalates into a full-blown rumble when the Winx and Specialists arrive to rescue Musa from the crowd of witches. Enraged by their arrival, Stormy manifests lightning bolts from the palms of her hands, aiming them upwards where they form a large storm cloud over the area that mixes in with Icy's powers, causing it to snow. The Witch of Storms quickly lunges for Bloom and fires a lightning bolt at her. Though she misses, her attack lands a hit on Flora, taking her out of the fight. She is quickly taken out herself by a fireball that Bloom launches her way but, when Bloom attempts to rescue Musa from an attack, Stormy flies in her way and blocks her with every move. This causes Bloom to lose herself to her rage, forcing her to unleash a powerful attack that engulfs the area in light, knocking out all the Trix and forcing them to flee along with Riven and the other Cloud Tower Witches.
Once they properly regain their bearings in their dorm, Stormy laments over having broken a nail in the fight until she and Darcy are drawn into a special meeting by Icy pertaining to Bloom. By "Bloom Tested," the three witches replay the events of the fight through their Vacuums and properly deduce that Bloom is the one carrying the power which they seek to get their hands on.
A couple of days later, the Trix crash Bloom's midterm exam simulation by using magic dolls with the intent of drawing out her power to confirm their suspicions. Having deduced that Bloom is incapable of drawing out the full extent of her powers due to some kind of emotional suppressant, the Trix torment her until she reaches her breaking point, causing her to unleash an immensely powerful blast of her fire magic that ejects the Trix out the simulation and incinerates their magic dolls. With that, the Trix conclude that Bloom indeed holds the Dragon's Flame within her.
Two episodes later in "Miss Magix," Stormy and her sisters appear to help Lucy enter and win the titular beauty pageant by using witchcraft to make Lucy appear physically more beautiful. Given the Trix's usual track record however, this comes at a price for all involved as not only do the Trix wreak havoc upon the other contestants, but they also plan on removing their magic from Lucy when she wins to completely humiliate her publicly. In fact, once Lucy is crowned as the new Miss Magix, the Trix do just as they planned and cause her to be disqualified, leading to Stella winning the crown as her runner-up.
Stormy appears again in "Bloom's Dark Secret," initially within an illusive image conjured up by Mirta in an attempt at uncovering the Trix's true intentions to stir Lucy away from them. In doing so, Mirta unintentionally learns of the Trix's latest plans to steal Bloom's powers, and so she decides to warn the fire fairy before it is too late.
Later that night, Stormy and her sisters begin searching for Bloom within the nearby forests once after she stormed out of the school, having fallen for their latest trick. During their search, Stormy quickly grows bored and begins shooting off lightning bolts at trees, the ground and at Icy's duckling until Darcy chastises her for it. The two of them then apologize to Icy when she has to step in to keep them from arguing and blowing their cover.
Eventually, the three witches find Bloom but after she had been informed of the trick they played on her thanks to Mirta. As the Trix laugh in Mirta's face, the Winx suddenly appear, prompting Stormy to conjure up a twister to attack. When Darcy dispels of the Winx, which were merely an illusion Mirta created to distract them, Stormy quickly becomes enraged for the young witch's deceit. She then releases her pent-up anger on the real Winx when they arrive by trapping them within two tornadoes until she loses her concentration, having fallen for another one of Mirta's illusions.
Fed up with her, the Trix laugh at Mirta's misfortune when Icy curses her, turning her into a pumpkin. They then disappear from the scene once Bloom's powers begin to manifest to avoid yet another one of her powerful fire blasts.
Still wishing to get their hands on Bloom's Dragon Flame, Stormy and her sisters conjure up a Nightmare Gargoyle to terrorize the Winx in "Cold Spell."
After spending a few nights waiting, the Trix, more eager than ever to snatch the Dragon's Flame from a weakened and sleep-deprived Bloom, teleport themselves to Alfea to aid their Nightmare Gargoyle. Unfortunately for them, they are caught by Headmistress Faragonda, whose presence forces them into fleeing as their Nightmare Gargoyle is defeated.
A short while later, the Trix return to Cloud Tower, soaked by the rain and humiliated for having to watch another one of their plans go up in smoke. To make matters worse, Griffin confronts the witch trio by projecting an image of her head in front of the school. Furious with how their antics have forced her to face humiliation by Griselda's hands and with how they have tested her patience time and time again, Griffin expels the Trix, leaving them out in the rain.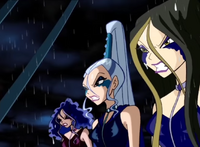 Having faced humiliating defeat after humiliating defeat at the hands of the Winx on a near-constant basis, Stormy and her sisters scream into the stormy night sky, vowing to exact their unbridled vengeance on the five fairies.
Two episodes later, Stormy and her sisters make a unexpected return in "The Font of the Dragon Fire," having tailed Bloom to her home in Gardenia to finally do what they have been meaning to for months: steal the Dragon's Flame. And to ensure that Bloom cannot simply blast them away, the Trix and Knut hold her parents, Mike and Vanessa, hostage, leading the three witches into an aerial battle with Bloom until Icy has Stormy and Darcy teleport back into Bloom's house to conjure up a swirling vortex into an unknown abyss to lower Mike and Vanessa into. When Bloom demands to know what the Trix are after, Stormy tells her that they want her powers as Icy drops Bloom's foster parents into the abyss when she refuses to comply.
After Bloom is subdued and Icy discloses the information of Bloom's true origins as the current Keeper of the Dragon's Flame, Stormy waits for Darcy to knock Bloom unconscious, which allows for the witch trio to summon their Vacuums and strip Bloom of her powers. Now, with the legendary Dragon's Flame in their possession, the Trix teleport away with their prize, leaving Knut behind.
In the following episode, it is revealed that the Trix teleported back to Cloud Tower with the intent to take it over. When Professor Zarathustra attempts to scold them for coming back, Stormy mocks her authority as it no longer applies to her or her sisters, before creating a tornado that throws everyone around. After Icy freezes Griffin to a wall, the Trix declare themselves as the ones in charge of Cloud Tower, assuming their place in the headmistress' office to further prove their point. As they send Griffin and the students down to the dungeons, Stormy announces the next step of their plans: to call forth the Army of Darkness in spite of Griffin's many warnings.
A short while later, Stormy and her sisters are confronted by Riven, who had come to Cloud Tower with info he thought Darcy would like. When he expresses his uneasy over the trio being let into Griffin's office, Stormy reveals that they seized it from her and praises him in a mocking tone as she and her sisters circle around him. With the help of Darcy's magic, the Trix appear larger than life as they continue to laugh at Riven before knocking him unconscious and moving on to summon the Army of Darkness.
Community content is available under
CC-BY-SA
unless otherwise noted.