Kind of, but we have better style.

This Article is an A! It has all the sections and images in place, making it complete.
Tecna's Guardian of Sirenix is one of the Guardians of Sirenix featured in Season 5 and 6.
Appearance
She has violet hair, purple eyes and purple eyelashes. She has pale-purple skin and a pale-pink shell on her forehead. She wears a violet and pale-pink shell shaped top. Her tail is violet with pale green ribbons on it. She also wears pale-green ribbons on her right arm.
Personality
She is very intelligent because even though Musa is with Tecna, they asked for her help instead of Musa's. She also talks logically, which was evident when she remarked Tecna's work "impressive".
Series
Season 5
In "The Gem of Empathy," Tecna calls upon her Guardian to ask where the Gem is located. She replies by saying that they have to search "where one rules over the many", prompting that the throne contains the gem.
In "Sirenix," she and the other Guardians used their power to open the Sirenix Gate.
In "Listen to Your Heart," she grants Tecna's Sirenix wish of having the people of Zenith realize they are all connected.
Season 6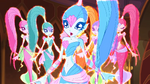 In "Inspiration of Sirenix," she and the other Guardians were asked how Daphne could regain her Sirenix powers. They told the Winx that the only way in which Daphne's powers could be restored: The Inspiration of Sirenix.

Trivia