This is your user page. Please edit this page to tell the community about yourself!
Amelia the guardian fairy (history)
Ok here is how I come into play. The six Winx girls are packing up for break (my version of season 3, like first episode) and as Stella and Layla are walking something comes falling down onto them. They get up and realize it is me. That is how my character comes into play I have alot more adventures that I came up with to talk about...Ameliaguardianfairy 22:47, June 28, 2011 (UTC)
Amelia the Guardian Fairy (character history)
Amelia is a guardian fairy (medium lenghth blonde hair, blue eyes, pale skin, girly, dancer, fairy outfit: sea foam green strapless top that represents water and nature, blue drop earings represent fire and ice, yellow ballet shoes that have complicated strap pattern represent sun and technology, bracelets pinkish redish music and invisibility) she has all the powers the winx has plus invisibility and ice. Why? Evry 100 generations has one guardian fairy and Amelia has been chosen. She has two siblings. An older sister named Noel who is queen of the relm Invisibol (her invisibilty powers) and a younger brother sky
. Yes the blonde hair blue sky specialist who is in love with Bloom (Amelia hates bloom because bloom doesn't realize how powerful Amelia is and she doesn't listen to Amelia which leads up to Amelia becoming Starcy.). Amelia is very annoyed how she won't have a kingdom and she, her mother and even Sky realize she is more mature and powerful but her dad doesn't realiz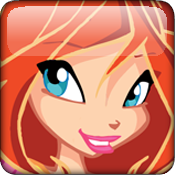 e it. Now the witch Icy, icy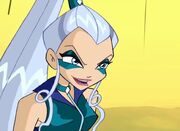 is her cousin. Amelia is much older than the other fairies she goes to alfea all her life since her powers can sometimes over whelm her. Amelia fought in the war of sparks in the company of light and side by side with Bloom's parents. Bloom's parents made Amelia Bloom's protector if anything happened to Daphne
. Stella and Layla's parents trusted Bloom's parents descion to make Amelia a protector that they did the same to their daughters. Amelia grew up taking care of
Layla and Stella
and they are two of her best friends. Amelia fought the evil cruel dark twisted Baltor and defeated him no one would listen to her saying if you put him in the omega dimension he will escape some day.
Amelia has a love intrest his name is Phil and he is
Helia's twin brother. Phil is a mixture of Riven and Helia. This makes Amelia and Flora
close and good friends. However Amelia's best friend is Riven
. Her and Riven are so close it is crazy everyone thinks that Amelia and Riven secretly go out but I and Riven reasure them we are just friends.
When the winx have to go to Gardenia in season four alot of things happen to Amelia. First someone brainwashes Amelia and Sky's parents mind and banish amelia to live on sparks and leave Amelia all bye herself with only a wooden septor. She goes to find Sky had try to kill him because she thinks that he brainwashed their parents. She soon realizes the leader of the dark circle did it. She explains that she used to date him but dumped him because he started to turn evil. Since her parents don't approve of Phil from being brainwashed, she figures she might as well date him. She gains his trust and defeats him. It was just a trick to make sure he was the same evil person. Ameliaguardianfairy 23:30, June 28, 2011 (UTC) twisted.
Community content is available under
CC-BY-SA
unless otherwise noted.