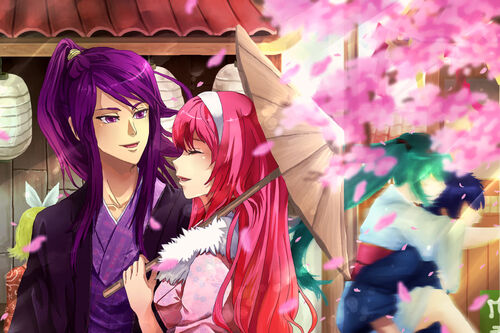 Welcome to my world! For further issues, leave a message on my
talk page
.
" 我曾经跨过山和大海
也穿过人山人海
我曾经拥有着的一切
转眼都飘散如烟
我曾经失落失望失掉所有方向
直到看见平凡才是唯一的答案

我曾经毁了我的一切
只想永远地离开
我曾经堕入无边黑暗
想挣扎无法自拔
我曾经像你像他像那野草野花
绝望着 也渴望着
也哭也笑平凡着 "
The current time zone I am using is GMT +7, so whenever you want or need to ask (for) something, please be considerate over the time. Frequently asked who is my favorite and such, so I put these here. These answers are for the case If I have to pick one(s). Favorites:
My favorite Winx girls: Musa.
My favorite pixies: Amore, Tune, Cherie.
My favorite selkies: Serena, Sonna.
My favorite pets: Lady, Artu.
My favorite fairy pets: Ginger, Milly.
My favorite fairy animal: Amarok.
My favorite PopPixies: Fixit, Martino, Pam.
My favorite season: Season 4.
My favorite Specialists: Brandon, Helia.
My favorite minor characters: Diaspro, Galatea, Krystal, Macy.
My favorite transformation: (currently) Believix.
My favorite songs: Heart of Stone, Superheroes.
The best in:
Winx: Bloom, Aisha.
Enchantix: Stella.
Believix: Tecna.
Harmonix: Musa.
Sirenix: Flora.
Bloomix: Bloom, Tecna.
Mythix: Aisha.
Butterflix: Tecna, Aisha.
Tynix: Aisha.
Dreamix: Flora.
Onyrix: Musa and Flora.
| | |
| --- | --- |
| vi | Thành viên này sử dụng Tiếng Việt làm ngôn ngữ mẹ đẻ. |
| | |
| --- | --- |
| ko-1 | 이 사용자는 한국어를 조금 구사할 수 있습니다. |
The purpose I made this one because people keep asking for the old boring question: "What is my favorite character in [insert-show]?" and in fact, I extremely am lazy to answer that one. Besides... the characters added in favorite list below are actually main characters of the show -- the exceptions only come with MH and Vocaloid. So please do not keep asking.
Winx Club: Bloom/Fairy of Dragon's Flame, Flora/Fairy of Nature, Musa/Fairy of Music, Tecna/Fairy of Technology, Roxy/Fairy of Animals.
Sailor Moon: Hino Rei/Sailor Mars, Aino Minako/Sailor Venus, Tomoe Hotaru/Sailor Saturn.
Mermaid Melody Pichi Pichi Pitch: Touin Rina/Green Mermaid Princess, Caren/Purple Mermaid Princess, Noel/Aiiro Mermaid Princess, Sara/Orange Mermaid Princess.
Tokyo Mew Mew: Fujiwara Zakuro/Mew Zakuro, Aizawa Mint/Mew Mint, Shirayuki Berry/Mew Berry.
Pretty Cure:

Futari wa Pretty Cure & Futari wa Pretty Cure Max Heart: Misumi Nagisa/Cure Black.
Futari wa Pretty Cure Splash Star: Mishou Mai/Cure Egret/Cure Windy.
Yes! Pretty Cure 5 & Yes! Pretty Cure 5 GoGo!: Yumehara Nozomi/Cure Dream, Kasugano Urara/Cure Lemonade.
Fresh Pretty Cure!: Yamabuki Inori/Cure Pine, Higashi Setsuna/Cure Passion.
Heartcatch Pretty Cure!: Tsukikage Yuri/Cure Moonlight.
Suite Pretty Cure♪: Shirabe Ako/Cure Muse.
Smile Pretty Cure!: Aoki Reika/Cure Beauty.
Doki Doki! Pretty Cure: Madoka Aguri/Cure Ace.
Happiness Charge Pretty Cure!: Omori Yuko/Cure Honey.
Go! Princess Pretty Cure: Akagi Towa/Cure Scarlet.
Maho Girls Pretty Cure!: Izayoi Liko/Cure Magical.
Kira Kira☆Pretty Cure à la Mode: Kenjou Akira/Cure Chocolat.

Vocaloid: CUL, Megurine Luka, Kamui Gakupo, Tohoku Zunko, MEIKO, KAITO, Kagamine Len, Kagamine Rin, kokone.
Monster High: Spectra Vondergeist, Invisi Billy, Skelita Calaveras, Twyla, Elissabat.
Cute High Earth Defense Club LOVE!: Kinugawa Atsushi/Battle Lover Epinard.
PopPixie: Amore, Fixit, Martino, Pam, Cherie.
Monster High
IDK when I have fallen in love with Monster High... But as far as I do not want to add it to my gallery, I just want them to be in here, my user page, so do not say I copy anyone's style or anyone's arts... These images are cropped directly from screenshots on MH's official web by me! I will update them whenever the new bios are out! And I have to say, I love the people who make these clawsome arts ♥!!! Update: Urg, this will not be updated!!!































































Disney Princess
One of my biggest passions in this boring, gloomy life. Talk about this later when I have more time...








My signatures
ღRoseThorn - 7: il numero perfettoღ











Born as a Libra, and will always be so!
A cold wind of Autumn










Beautifully bloom as Ruby Rose

Gloriously shine as Aphrodite Hearts

Freshly ripen as Sapphire Berry


My userboxes

Adoration
| | |
| --- | --- |
| | This user adores Bloom. |
Adoration
| | |
| --- | --- |
| | This user adores Stella. |
Adoration
| | |
| --- | --- |
| | This user adores Flora. |
Adoration
| | |
| --- | --- |
| | This user adores Musa. |
Adoration
| | |
| --- | --- |
| | This user adores Tecna. |
Adoration
| | |
| --- | --- |
| | This user adores Aisha. |
Adoration
| | |
| --- | --- |
| | This user adores Roxy. |
Adoration
| | |
| --- | --- |
| | This user adores Winx Club. |
My talkboxes
Here are my talkboxes!!! My reason to create talkboxes is: I am really... lazy with sign my signatures XD!!! Had no idea why I made so many talkboxes *smh*...
Winx Club - Believix!
TALK - Believix Convergence!
.
Bloom - Believix!
TALK - Fata della fiamma del drago!
.
Stella - Believix!
TALK - Fata di sole che splende!
.
Flora - Believix!
TALK - Fata della natura!
.
Musa - Believix!
TALK - Fata della musica!
.
Tecna - Believix!
TALK - Fata della tecnologia!
.
Layla - Believix!
TALK - Fata dei fluidi!
.
Roxy - Believix!
TALK - Fata degli animali!
.
Diaspro - Princess!
TALK - Fata delle gemme!
.
Evelyn - Lazy leader in title
TALK - Contact if you need
.
Evelyn - Are you sure what you have done is right?
TALK - Let me tell you, it's totally wrong!
.
Evelyn - Well... um...
TALK - I don't think I understand
.
火野 レイ - マーズ・クリスタル・パワー!メイクアップ!
TALK - マーズ・フレイム・スナイパー!
.
愛野 美奈子 - ヴィーナス・クリスタル・パワー!メイクアップ!
TALK - ヴィーナス・ラブ・アンド・ビューティ・ショック!
.
土萠 ほたる - サターン・クリスタル・パワー!メイクアップ!
TALK - サイレンス・グレイブ・サプライズ!
.
洞院 リナ - 北大西洋のマーメイドプリンセス
TALK - グリーンパールボイス!
.
かれん - 南極海のマーメイドプリンセス
TALK - パープルパールボイス!
.
ノエル - 北極海のマーメイドプリンセス
TALK - 藍色パールボイス!
.
沙羅 - インド洋のマーメイドプリンセス
TALK - オレンジパールボイス!
.
藍沢 みんと - ミュウミュウミント、メタモルフォーゼ!
TALK - リボーン・ミントエコー!
.
藤原 ざくろ - ミュウミュウザクロ、メタモルフォーゼ!
TALK - リボーン・ザクロスピュア!
.
巡音 ルカ - 私の蝶不規則に飛び回り
TALK - あなたの手に鱗粉を付けた
.
神威 がくぽ - 愛しいなら執着を見せつけて
TALK - 「おかしい」のがたまらなく好きになる
.
What I read/watch/enjoy (nowadays): Many good things such as Powerpuff Girls or Scooby-Doo and so on will not be listed here as they are no longer available (discontinued), but they shall forever be in my heart!
Sailor Moon
Winx Club
Pretty Cure
Tokyo Mew Mew
Mermaid Melody
Cute High Earth Defense Club LOVE! (or Binan Koukou Chikyuu Bouei-bu LOVE! -- whatever you call it)
Monster High
Ever After High (not very much)
Pokémon Special (or Pokémon Adventures -- whatever you call it)
Pride & Prejudice
Codename: Sailor V
Goosebumps
Anything Disney-Princess-or-Fairies-related
One Piece
Toriko
Detective Conan
Vocaloid
Boboiboy
In exact order. I hope I don't die before or in between doing these ;;u;; I don't know when will I be able to finish this 。・゚゚*(>д<)*゚゚・...
Completing Winx Club season 1 - 5, PopPixie & World of Winx's scripts
Writing missing description/appearance of characters & items
Community content is available under
CC-BY-SA
unless otherwise noted.