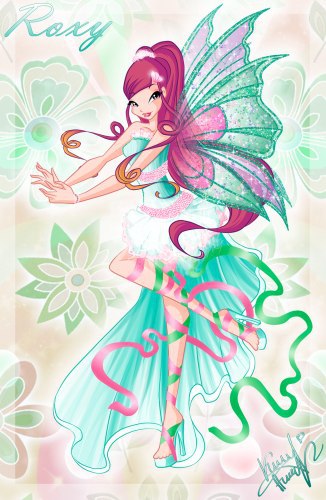 Hi my name is cure love, and i am a big fan of Winx Club . I love all Winx Club member s.I am a big fan of roxy.
I found out that there are many people who really hate Roxy.One of the reasons why they hate her, is because she skipped all the other transformations and became a Believix fairy.C'me on guys, get serious! From my point of view,thats a lame excuse! Now that Nickelodeon is co-producing the upcoming seasons,i hope that they integrate her in the upcoming seasons.I would love to her in her Nick's charmix basic fairy form and of course to see her enchantix form.Oh My God,since season 4 aired in 2009,i saw many fan-made Roxy enchantix and i must say that all of them are really Beautiful! I hope that Roxy gets her harmonix and sirenix Transformations in the season 5/season 6.
By the way, I'm also a big fan of Sailor moon, Mew Mew Tokyo,W.I.T.C.H.These last two years have been really wonderful.First we got to know that Rainbow will produce to two more seasons(season 5&6),and now this year after 20 years,i heard that Sailor moon is back!!!!!!!!!!!!and will produce more seasons of sailor moon!!!!!!!!!!! http://winx.wikia.com/wiki/Template:Curelove
Community content is available under
CC-BY-SA
unless otherwise noted.