Rules: 1. Don't block me if I didn't do anything wrong. 2. If I did do anything wrong, you will block me of course, and tell me the reason. 3. This is the most important rule: DON'T YOU DARE TO COPY MY STYLES!!!
Notes: 1. If something is incorrect I put in my page, tell me on my TALK PAGE 2. Vote at my polls!
Do you have a fanpop account? CHECK MY ACCOUNT---> StellaForever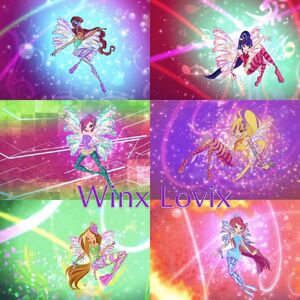 Winx Lovix aka Winx Sirenix

Origin

Quezon City, Philippines

Birthday

2nd of July

Fav Color

Many, but maybe Turquoise and Blue

Fav Hobby

Shopping

Fav Movie

Alot... Brave, Frozen, Hunger Games, Secret of the Lost Kingdom, 13 Wishes, Return to the Sea, A Twist in Time... but most of all... Equestria Girls.

Fav. Pet

Pomeranian and Labrador

Fav. Winx Spell

Likes

Playing Music, Shopping

Hates

Weekends. 'Cause I get bored at these days because no nice shows.

Other Wikis

Totally Spies, Monster High vs Bratzillaz, Monster High, Temple Run, Alvin and the Chipmunks
Hello! Welcome!
Hi! My name is Winx Lovix, and I love Winx Club. My fav color is Turquoise.
About Me :)
Hi! My name is Winx Lovix (last time)! But you can call me Jana, Dash, Twilight, Flora, Deenie Raven. I am a big, big BIG fan of Winx Club, My Little Pony, EAH, MH... and more! I have a brother and a sister, who're younger than me. I still have school... lol.
People often describes me sweet, friendly, helpful, smart and cute (I hate being described cute!). But my real personality is mean, smart, greedy, hot-tempered, honest but I am mostly kind and friendly. I hate people who disobeys me (younger than me, not older). My true self is hot-tempered, means I get angry most of the time, especially my friends hang out with others, without me. Well, kinda jealous to my friends.
My favorite games are Dragon City and Minecraft in mobiles. Board games (CHESS!!!!!!) are also my faves. I have lots for real. Every game (not boy or killing games) are my FAVES!!! Yeah!
My Fav Pages (any sort)
Name
Aisha
Flora
Tecna
Roxy
Stella
Musa
Bloom

Closets
Aisha's Closet
Flora's Closet
Tecna's Closet
Roxy's Closet
Stella's Closet
Musa's Closet
Bloom's Closet

Spell Libraries
Aisha's Spell Library
Flora's Spell Library
Tecna's Spell Library
Roxy's Spell Library
Stella's Spell Library
Musa's Spell Library
Bloom's Spell Library

Snapshots
coming soon...
Curiosities
My curiosities are very near to Aisha, but they are really true.
Birthday: July 2
Astrological Sign: Cancer
Favourite Food: Pasta (me and Aisha are the same :) )
Favorite Color: Turquoise and Blue
Favorite Hobby: Shopping, swimming
Favorite Pet: Horses (still the sane)
Ideal Boyfriend: Don't need one :P
Best Friend (on the wiki): Fatimah and StellaMusa
Favourite Movies: Comedy and adventure movies (like Brave)
Loves: Using the iPad
Hates: My sis (sometimes), boy stuff and of course, ONE DIRECTION!!!
Favourite Music: Pop, classical
Favourite Shoes: Comfy
Favourite Subject: Zoology
Favourite Spell: Morphix Kick
My Fav...
My least fav...
Witch: I like all of them... but in Antagonist maybe Tritannus.
Home Realm: Everything's nice... but maybe Eraklyon
Magical School: Red Fountain
Transformation: Charmix
Pixie: Fixit
Fairy Pet: No one, all of them are adorable.
Couple: Stella and Brandon
Reasons why I like...
Flora: Who likes being natural?
Helia: ---
Darcy: nice powers
Sally: nice hair! :P
Dark Bloom: Mean and evil... ooh!
Linphea: very natural
Alfea: school for fairies!
Sirenix: nice hair, suits and even Dark Sirenix :D
Amore: loves love... hehe
Cherie: can control the weather
Coco: cute
My fav shows
Ever After High
My Little Pony
Monster High
Sam and Cat
Victorious
Winx Club
The Haunted Hathaways
Totally Spies!
Monsters vs. Aliens
not yet done!
My fav songs
Roar (by Katy Perry)
We are Monster High (from the show "Monster High", by Madison Beer)
The Show (by Lenka)
Ride of Our Lives (from the show "Sofia the First", performed by Lea Salonga, Ariel Winter and Darcy Rose Byrnes)
Firework (by Katy Perry)
Last Friday Night (by Katy Perry)
Daylight (by Maroon 5)
Dumb Ways to Die (from the game "Dumb Ways to Die")
Wrecking Ball (not music video!!! by Miley Cyrus)
My fav TV specials (any show)
The Pirate Fairy (I watched it! Disney Fairies)
13 Wishes (Monster High)
Equestria Girls (My Little Pony)
Fright On! (Monster High)
Scaris: The City of Frights (Monster High)
Ghouls Rule! (Monster High)
Why Do Ghouls Fall in Love? (Monster High)
Winx Club: The Battle for Magix (Winx Club)
Winx Club: Revenge of the Trix (Winx Club)
New Ghoul @ School (Monster High)
My fairies
My polls
Who is your fav major fairy (of Earth)?
If you are a fairy, what would be your power?
What is your fav transformation?
My userboxes
Nature Lover!
| | |
| --- | --- |
| | This user has nature powers like Flora. |
My Gallery
Main article: Winx Lovix/Gallery
My Videos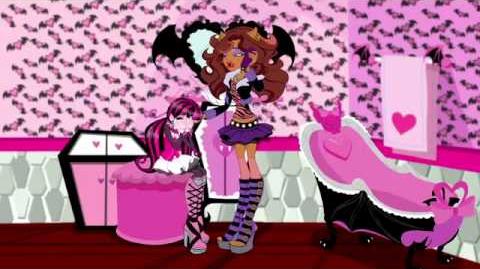 My talkboxes
I made these all by myself
Roxy - Fairy of Animals!
TALK - Animals can be your BFF!!!
My normal talkbox.
Roxy - I can't... believe... it...
TALK - Artu! Don't leave! Please!
My sad talkbox.
Roxy - What? Just a dog?
TALK - JUST A DOG?!?!
My angry talkbox! >:(
Roxy - What the...
TALK - ....
My suprised/shocked talkbox.
Roxy - Really? Really? REALLY???!!!
TALK - Animals for FREE?! Yi-pee!!!
My very happy talkbox!
Stella - Who is the real Darcy?
TALK - I'm getting confused!
My confused talkbox.
Rainbow Dash - Soo... what's this about?
TALK - OMG!!! Bad handwriting! No offense.
If something is wrong.
Bloom - Fairy of the Dragon Flame!
TALK - Fire of Srenix!
Used in Bloom's fans pages.
Stella - Fairy of the Shining Sun!
TALK - Light of Sirenix!
Used in Stella's fans pages.
Flora - Fairy of Nature!
TALK - Flower of Sirenix!
Used in Flora's fans pages.
Musa - Fairy of Music!
TALK - Voice of Sirenix!
Used in Musa's fans pages.
Tecna - Fairy of Technology!
TALK - Aura of Sirenix!
Used in Tecna's fans pages.
Aisha - Fairy of Waves!
TALK - Force of Sirenix!
Used in Aisha's fans pages.
Roxy - Fairy of Animals!
TALK - Enchanted Mantle!
Used in Roxy's fans pages.
Winx Club - Girl Power!
TALK - Sirenix never misses something!
Used in all the Winx's fans pages.
175px

Winx Club - Nice to meet you!
TALK - Come and join the club!
Used If I meet a new user.
175px

Winx Club - Okay Winx, all together now. Sirenix Convergence!
TALK - ♥♥♥Friends Forever!♥♥♥
Used in my Friends' pages.
Winx Club - We need to save Professor Wizgiz from someone!
TALK - Feel free to ask me if you need help!
Used if someone need my help.
Stella - Aisha?! What did you just said?!
TALK - Aww... I can't understand you!
Used if I don't understand messages.
There might be more coming soon!!!
My Friends
Fatimah

She is very helpful and kind. Best Friend.

Rutchelle

My FBFF (Filipino Best Friend Forever). Lends a helping hand. Best Friend.

Stellamusa

The user who I'd admire 'cause she is awesome. Close Friend.

Rose

She tells what's right and what's wrong. A little bit of a Close Friend.

Nabeela

Totally awesome, dude! Good Friend.
My sigs
Stella Forever! ~ Aisha Lover!
♦♦♦Bratzillaz♦♦♦ ~ ♦♦♦Yasmina Clairvoya♦♦♦ ~ ♦♦♦Glam Gets Wicked!♦♦♦
Łøvê Štéłłâ Šîréńîx ~ Łîght Dîámøńd
♦Jana Aisha, fata delle onde!♦
❉Jana ~ That place is being as cold as Antarctica... I'm scared to go there. ~ Fairy of Winter! ~ Breeze Freeze!❉
♥Princess Merida! I love Archery!♥

♥Archery Starter? Start here!♥

Check out what's happening on archery!


Ashlynn Ella ○

○ Shoes are awesome ○ But animals are adorable!
♦ Ashlynn Ella

My glass slipper can't be picked up by just anyone. ♦

Sirenix Convergence!</div>
Community content is available under
CC-BY-SA
unless otherwise noted.