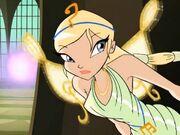 About Me
My name is Kica. I was a fan of many animes, but my favorite cartoon was the Winx Club .
I first discovered the Winx Club late in elementary school through a 4Kids activity magazine. Several months later, I ran into the Winx Club section of the 4Kids website. After seeing that, I decided that W.I.T.C.H. was much better than Winx Club and that Winx Club was copied off of it.
A few years later in June 2010, I originally woke up early to see a Bakugan and a Yugioh 5Ds episode, but came across Episode 10 of the third season of the Winx Club. Upon actually seeing an episode of the series, I dubbed it a favorite and continued to watch the 4Kids re-runs of the show during the summer of 2010, and later rewatched the first and second seasons.
During the autumn of the same year, I watched Season 4 on Youtube by BanjoGate. Later in November, I gradually became more connected to the online world and started to watch more anime (Tokyo Mew Mew) after hearing a suggestion from another Winx Club fan.
I'm currently a huge fan of J-Pop, and take an interest in reading fanfictions. Although I stopped watching anime in summer 2011, it doesn't stop me from occasionally re-watching an episode or two, or getting convinced to watch one new episode of a new anime (Soul Eater). Although I don't watch Winx Club anymore, I still adore the show very much. I also currently own a blog, and more of my accounts are listed on my youtube account. I owe everything I do now to the Winx Club. Without it, I wouldn't have made great online friends, became a fan of anime, or even discover J-Pop.
On August 27, 2012, I watched the premire episode of Season 5 on the Winx-Fairies blog. After that, I have not watched any episode of the series since the fifth episode.
Favorites
Favorite Fairies
Favorite Minor Fairies
Favorite Antagonists
Favorite Specialists
Favorite Transformations
Favorite Transformation Accessories
Favorite Seasons
Favorite Episodes
Favorite Songs
Trivia