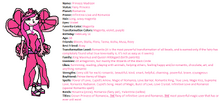 About me
I'm CeriseKitty3030, and I love Wiki!
I LOVE Winx Club! I even created a character that is completely fanfiction.
My favorite characters
My friends
Shaira Sultana
CherryBerry1456
Lava stamp
Bdj610
Dawn14
Trivia
I enjoy swimming, playing with pets, and drawing!
Madison's story
You probably saw my fairy up on top of my user page, so here's what her story is (just in case you can't see her info, here it is):
Name: Princess Madison
Status: Fairy
Planet: Romancia
Power: Infinitive Love and Romance (has more power than Ahisa)
Hair: Long, wavy magenta
Eyes: Violet
Favorite Color: Magenta
Transformation Colors: Magenta, violet, pink (image has error: purple should be pink)
Birthday: February 14
Age: 16
Friends: Bloom, Stella, Flora, Tecna, Musa, Aisha, Roxy
Best Friend: Roxy
Transformation level: Romantix (it is the most powerful transformation of all levels, and is only earned when a fairy has completely found what true love is. It's not as easy as it seems.)
Family: King Maximus and Queen Hildegard (parents)
Enemies: All, but mainly the Wizards of the Black Circle
Likes: Swimming, reading, playing with animals, helping others, feeling happy and/or romantic, chocolate, art, and anything romantic
Strengths: (very x30 for each) romantic, beautiful, kind, smart, helpful, charming, powerful, courageous, and brave
Boyfriend: Prince Henry of Magix
Spells: Power of Love, Cupid's Arrow, Magic of Romance, Love Barrier, Romantic Ring, True Love, Magic Kiss, Supreme Love, Romantic Radiance, Cupid's Song, Heart of Magic, Burst of Love, Love Crystal, Infinitive Love and Romance (special Romantix spell)
Bonds: Rosanna (pixie), Romance (fairy pet), Valentine (selkie)
Titles: Crown Princess of Romancia, THE fairy of Infinitive Love and Romance, THE most powerful magic user that has or ever will exist
Community content is available under
CC-BY-SA
unless otherwise noted.