Hello! Welcome to my page!! I am Shadow fairy16 but feel free to call me Ashley, Ash, or by my username. Go down further to find out more about me! Feel free to leave a message on my talk page anytime if you want to talk! :) Thanks for visiting.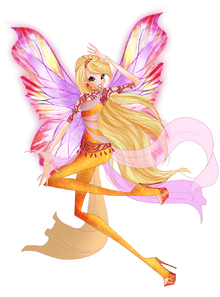 About me
I have watched winx club for a long time, probably since I was around 9 or 8. When it first came out, I wasn't into it. But then one day, there wasn't much on and I wanted to give it a try and I fell in love and I loved it ever since. But, I have more interests.
I love animals and am 100% against animal cruelty.
I also watch Full House, Monster High, and Miraculous Ladybug (every so often). Plus some other things on Disney Channel, Teennick, and Nickelodeon.
I love the colors pink , dark red, dark black, and purple, but also other bright colors as well. Hehe XD. I love to meet new people but I am often very shy but I am often described as kind, friendly, and big hearted.
I am in the 10th grade as of right now but I will try to get on as much as I can. :)
My favorite characters
Favorite Vilians
The Trix (Icy, Stormy, and Darcy)
Valtor
Lord Darkar
Favorite Transformations
Enchantix,
Bloomix
Butterflix
Dreamix
Favorite Specialists
My friends
Add the username of your wiki friends here.
Trivia
I am currently learning how to code and I have gotten pretty good at it. However, I am still learning and I am considering making that a career choice.
I love to make pictures and videos.
I am an animal lover.
I hate: being ignored, spiders, slow internet, animal abuse, and bullies.
I love: Sci-fy movies(depends on plot), Horror movies, pizza, drawing, making DIY's, listening to music, and playing certain video games on my Xbox 360.
Also, as far as sports go, I love badminton, volleyball, Tennis, Ping Pong (I think that's a sport), and baseball/softball. I do not play them often due to no access of equipment when I am in the mood to play.
I am a over-sensitive, friendly, and game lover type girl that loves to help out anyone in the need of it when I can.
Community content is available under
CC-BY-SA
unless otherwise noted.