Updated Last: 12/15/14
Can we just state that I had a fanfiction a while back about my fairies having a spirit animal and transforming into those animals?
Oh and Merry Christmas <3
3/8/14
Oh, and I play on this website called Marapets. If you want to join, go through this link, 'www.marapets.com/refer.php?id=sorreltail18'. Check it out :)
Sorreltail18, also known as Sorrel, is an Admin and one of two Bureaucrats at Winx Wiki. She is currently Leader of Project Scripts and Co-Leader of Fairy Rescue Section, Project Characters and Episodes, and play an active role for Project Comics. She was recently nominated for many Featured User, but eventually won in February of 2014. Sorrel has edited on Wikis since 2007, but adopted Winx Wiki in 2009
About Me :)
Sorrel - Superhero Sorrel!
TALK - Happy to serve the Winx Wiki!
Hello there, I am Sorreltail18, but everyone calls me Sorrel. I have edited and been an admin/bureaucrat on Winx Wiki since 2009, so you could say I have been around for a while and well one of the first users to be here. I live in North America (Central Tim Zone), so please respect the time zone difference as some of you may leave a message at an inconvenient time for me. I try to reply to all messages as soon as possible.

The history of me... In the summer of 2009, I stumbled upon this wiki. Luckily, a few other users were able to edit with me. After all agreeing who would adopt this wiki, I was chosen to adopt this wiki and be the first admin. I continued my adminship, appointing all who were with me from the beginning as admins. Winx Club Fanon Wiki became present, and I was an admin there as well. I left a couple times due to personal reasons, but I plan to stay for awhile.

Speaking of my roles... I am an admin, so if you have any questions or concerns, please contact me. I am also Leader of Project Scripts, and Co-leader of Project Characters, Episodes and the Fairy Rescue Section. I also write blogs on Friday, which are my updates, and Monday, which is my weekly rant.

I am very strict and serious however I like to lay back and have fun. I am very friendly and helpful as well. I also delete unnecessary pages, and rollback unnecessary edits. The only way to understand me is to get to know me. I only have a couple really good friends on this wiki but I don't mind making more friends :).

Check out the rest of my profile and get to know me :)
Goals
[x] Lead a project (December 1st: HELLO PROJECT SCRIPTS!)
[x] Co-lead a project
[x] Join Fairy Rescue
[x] Become Co-leader of Fairy Rescue
[x] Get 2,500 Edits (November 17th)
[ ] Get 5,000 Edits
[ ] Get 10,000 Edits
[x] Get Featured User (February 2014)
Favorites
Favorite Fairy: Roxy and Flora
Favorite Minor Fairy:
Nova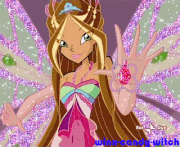 Favorite Specialist: Helia
Favorite Season : Season 3
Favorite Episode: Season 2, Episode 23
Favorite Villian: Lord Valtor
Favorite Fairy Form Enchantix
Favorite Color: Light Blue
Favorite Food Anything Spicy, TACOS
Favorite Animal: Foxes, Cats
Favorite Band: One Republic, John Newman
Favorite Show: Total Drama, Walking Dead, Suite Pretty Cure, Attack on Titan, Winx Club (THE RAI VERSION!!!!), Stoked, 6teen, The Office
Favorite Books: Warriors Series, Hunger Games, The Book Thief, The Great Gatsby
Favorite Movies (Limit 1 per genre): The Breakfast Club, Frozen (Disney 3-D), The Aristocats (Disney Renaissance), Up (Pixar), Hunger Games (Survival), Rent (Broadway), The Great Gatsby (Book to Movie)
Talk Boxes/Signature
Sorrie - Hey!
TALK - I'm Sorrel, Nice to meet you!
First talkbox ever made :) I thank Roxy13 for this :)
Sorrie - Breath of the World
TALK - Let's go Enchantix (oh wait... that was a lovix spell!)
My happy talkbox!
175px

Sorrel - Venus Gobbler!
TALK - ...just dont make me mad!
My angry talkbox!
175px

Sorrel - Sorry, but I must do...
TALK - ... what I have to do
My sad talkbox!
Sorrel - Oh I'm so tired!
TALK - ...or confused
My "I am so confused" talkbox!
Sorrel - Ha ha ha...
TALK - ...so uhm...
My "I dont know" talkbox!
Sorrel - Nature is beautiful...
TALK - inside and out!
Just an extra talk box!
Sorrel - Playing the soul's tune...
TALK - ...Cure Beat
I don't think I will ever make another text box ever again
User Boxes!
Likes and Dislikes
| | |
| --- | --- |
| 100px | This user loves music. |
Community content is available under
CC-BY-SA
unless otherwise noted.