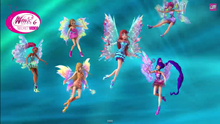 About me
Hello, my name is Preston a.k.a. TTTE Thomas. I am 15 years old. I have been a Winx fan since 6th grade. It all started when I was staying home from school because I was very sick. I turned on Nickelodeon and Winx Club was on. I watched one episode and I instantly loved it.
Favorite Characters
Favorite Seasons & Episodes of Nick Dub
Season 3: Building Hope, and The Final Battle.
Season 4: A Fairy Found, and Duel in the Omega Dimension.
Season 5: The Power of Harmonix, Sirenix, and The Problems of Love.
Season 6: Bloomix Power, Mythix, and Winx Forever.
Favorite Transformations
1. Mythix - I absolutely love it and I think that it is the most magical transformation ever!
2. Bloomix - The song is very good and the outfits are pretty.
3. Sirenix - I like the outfits and the 3D CGI and 2D looks of them in this transformation.
Community content is available under
CC-BY-SA
unless otherwise noted.