Polish version:
Co jest najśmieszniejsze w ludziach:
Zawsze myślą na odwrót: spieszy im się do dorosłości, a potem wzdychają za utraconym dzieciństwem. Tracą zdrowie by zdobyć pieniądze, potem tracą pieniądze by odzyskać zdrowie. Z troską myślą o przyszłości, zapominając o chwili obecnej i w ten sposób nie przeżywają ani teraźniejszości ani przyszłości. Żyją jakby nigdy nie mieli umrzeć, a umierają, jakby nigdy nie żyli. - Paulo Coelho
English version:
What is the human being's funniest characteristic:
Our contradictoriness. We are in such a hurry to grow up, and then we long for our lost childhood. We make ourselves ill earning money, and then spend all our money on getting well again. We think so much about the future that we neglect the present, and thus experience neither the present nor the future. We live as if we were never going to die, and die as if we have never lived.- Paulo Coelho
Cześć! Hey! Hi!
Name? My name is... Borys and as you know I am a... soldier
My adventure with Winx Club began... 9 years ago!
At very begining of the series, Poland was in the first of four lucky countries to start airing the series, trusting in power of Rainbow. Of course, polish dub was in the fact 4kids dub translated into polish. Because of that even now in Nick dub, which is succesfully airing Aisha is still Layla.
Why I started to watch Winx?
Well, my little sister found 4kids on satellite. My mum ordered me to watch for her and ultimately I was forced to watch entire series through the years, entirely from 4kids dub to Nikleodeon dub. In the end, because of fact, that I am tech officer in polish army, I was also forced to learn english extremally well and again, I was forced to help my sister, now 15 years old, on english. Guess how I transfered my knowledge to her? Through Winx, replayed very carefully, from 4kids, through Cinelume to Nick!!! That made me guess that I may be the one of the very elite group of people with possesion of knowledge about entire universe.
Why I joined wikia so late?
REALLY dunno...
Do you want to know more?
MY FRIENDS
I'm open to people, so if you want, ask me for everything!
There are a few people that I can name "friends". There they are:
My favorite pages
Do you want to know more?
My favorite character is... also a villain???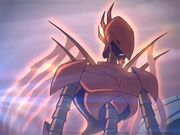 Darkar aka Lord Darkar The Shadow Phoenix. Why? I like strong and unbeatable characters. And he is THE ONLY ENEMY WHO DEFEATED WINX AND REMAINS TRUE UNDEFEATED. He lost in Phoenix form, not in a warrior. In entire Magic Dimension there were two the most powerful beings - The Great Dragon and The Shadow Phoenix. When Dragon disappeared, his energy was kept in Royal Family of Domino. But Lord Darkar - he didn't disappear. According to only true English RaiDub - Cinelume and very rare Polish RaiDub (it's highly possible that I am alone the only possesor of complete Polish RaiDub) he is lost in Realix Dimension. But Light Heaven monks found only Trix, so... who knows? I really hope that in Season 6, or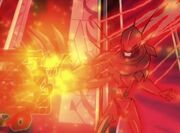 Winx Club final movie in 2014/2015 he will be back for final confrontation. But not with the Winx - but to confront his equal enemy - The Great Dragon.
.
.
.
.
Do you want to know more?
My talkboxes
Lord Darkar - AT LAST!!!
TALK - The Ultimate Power
This is my standard talkbox.
Roxy - The 7th Fairy
TALK - Yeah!
This is my happy talkbox.
Roxy - the Last Fairy on Earth
TALK - Alright,Kiko!
This is my agreement talkbox.

Do you want to know more?
My favorite fairy is...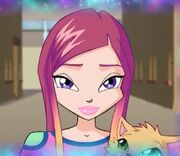 Roxy! The Last Fairy on Earth! Due to Rainbox & Nick respective politics she is only in 7 episodes in primary version of Season 5, but there is an alternate version of final 3 episodes. I hope she will get her chance to join winx. What can I talk you about her? Lots of people disrespects her but hey - maybe the brand Winx Club is a no.1 girls brand but official series become something more - since the beggining it's evolving into dark serires like Ben 10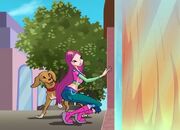 Ultimate Alien. Older viewers appreciates that but hey again - show should remain for little kids so we will cancel it and start another in the same universe but with sweet plot! Rainbow insted of keeping evolving the series in a great way choses to rip off the fairy who in first plot of season 5 had big impact onto Club - darker than other Winx Roxy.
EHH I TAK WIEM, ŻE NIKT TEGO NIE PRZECZYTA:
DLA DOROSŁYCH FANÓW ZAWSZE BEDZIESZ SIÓDMĄ WRÓŻKĄ!
Do you want to know more?
My favorite specialist is...
Brandon! His sence of humour is destroying me. All his jokes are funny and perfectly timed. He is a befst friend if Sky and because of that, he will do everything for him. Through whole series, only he trurely supported him and stayed in his side. When Diaspro poisoned him with Valtor poison, he quickly realizes that something is wrong and is ready to sacrifice his own life to revert changes. In other way, he in some way resembles me, or I resemble him.
Do you want to know more?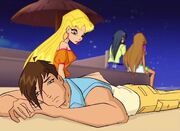 "MORE" WILL COME.
LATER
.
.
.
.
.
.
.
Introducing "NICE PHOTOS"
As you probably know, I like to capture specific images. These images are hard to describe until you see them, so check them wright now!
FEEL FREE TO USE THIS IMAGES!
Community content is available under
CC-BY-SA
unless otherwise noted.