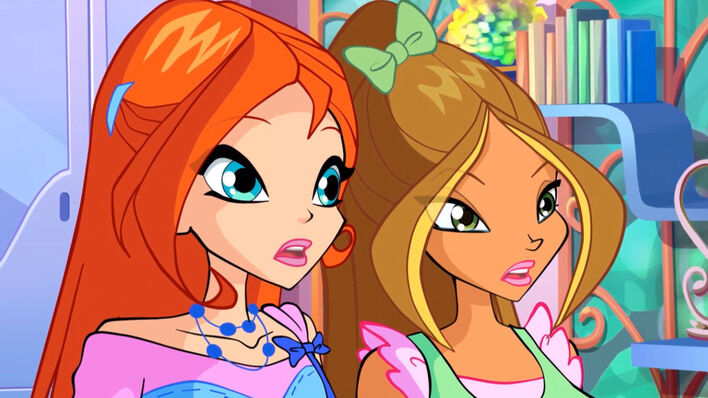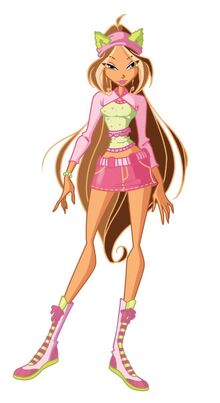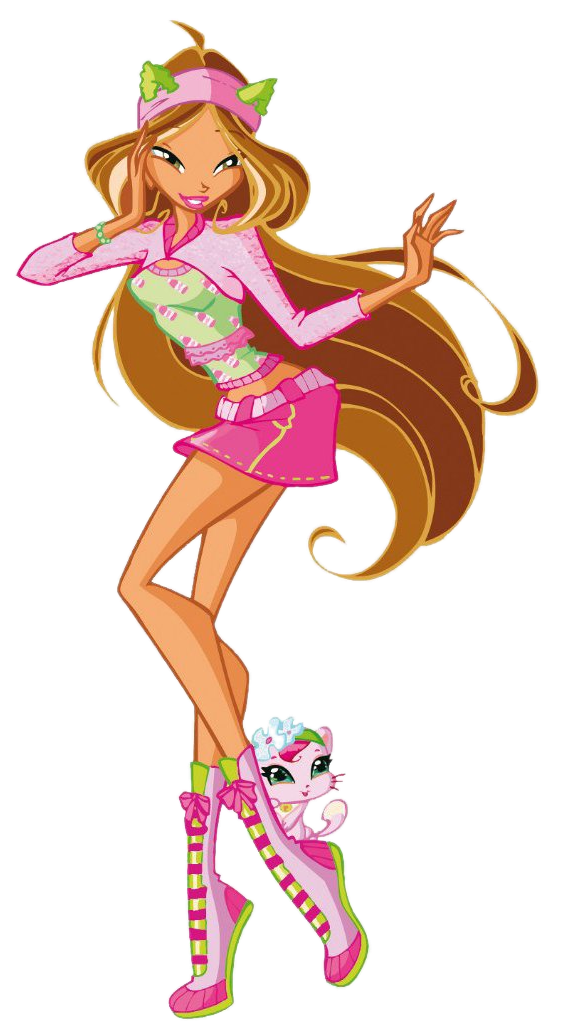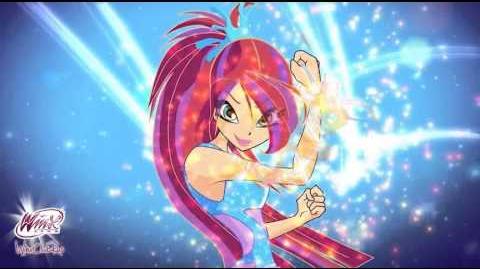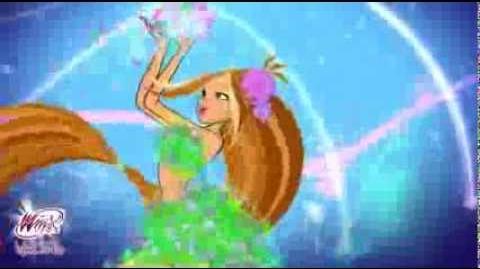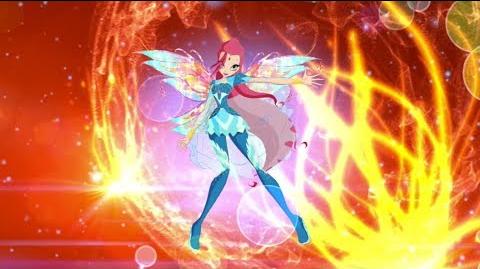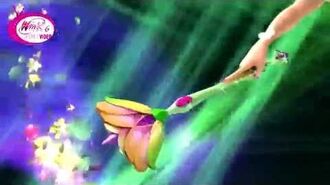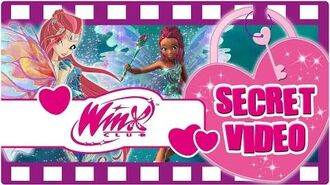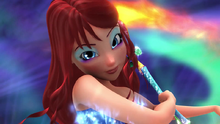 About Me
Hi our name is Aparna and Joshna. We are the biggest fans of Winx Club. I like Bloom and Joshna likes Flora.
My favorite characters
Favorite character #1 - Bloom and Flora
Favorite character #2 - Stella and Musa
Favorite character #3 - Tecna, Aisha and Roxy
My friends
Not Available
Bloom and Flora
BLOOM
Princess Bloom'' is the princess and Guardian Fairy of Domino and keeper of the Dragon's Flame. She was the first character to be introduced. She is also an old friend of Selina.
Personality and Traits
Bloom started off as an insecure girl in the beginning of the story because of her ignorance of her true origins and her strange, yet surprisingly potent powers. Later on, as she learned more about magic and herself, she grew increasingly curious about her past and whom her biological parents are. An escapist by nature, she has a tendency to run away when things get too hard or confusing for her, and can also be impatient and stubborn, with a short temper. Bloom was also impulsive at times, which led to some very bad experiences for both her and her friends. Her greatest strength and greatest weakness was her status as the guardian of the Dragon's Flame. While the Dragon Flame made her arguably the most powerful fairy in the Magic Dimension, it also consistently drew numerous enemies to her such as the Trix, Darkar, and Valtor (and the Ancestral Witches).
Despite being far from perfect and having flaws, Bloom still has a heart of gold. She cares for all of her friends, allies, and families (both adopted and biological) deeply, and is always willing to help and fight for a good cause. She has also shown herself to be selfless, caring, and a true capable leader. Bloom is tough when need to be and always lends a helping hand to people.
FLORA
Flora'' is the Guardian Fairy of Nature. She is also one of the Winx Club and a former student of Alfea College for Fairies. She was the third Winx girl introduced, after Bloom and Stella. The team relies on her for potions and advice.
Personality
Flora is shown to be a very sweet, shy, genuine, calming person who loves plants and vegetation of all kinds. Being interested in experimenting with her plants, Flora became the potion master of the group who specializes in brewing and creating remedies and medicines from the uses of her magical plants. Due to her gentle and caring personality, Flora is strongly connected to nature and loves helping people. She is shown to have a sensitive personality to the point where she would instinctively care for her friends as well as her plants when they are in distress. Flora is the most mature member of the Winx as she possesses a deep sense of love, peace, happiness, and tranquility. However, it is shown that Flora has an insecure side to her personality as she would have problems believing in herself at times. Her insecurity would sometimes cause her to hide most of her feelings to the point where she would have problems expressing them. Flora is one of the most diligent students at Alfea and is cautious of her actions. Although she has a calm and nice personality, she at times gets very angry at her enemies which can cause her to act quickly and show a more aggressive side of herself. This is seen a few times through the series.
About Winx Club
 Winx Club
Winx Club is a 2004 Italian animated fantasy/adventure series created by Iginio Straffi and produced by Rainbow S.p.A. The series is aimed toward children between the ages of six and fourteen and has spawned an international franchise of toys, books, games, clothing, DVDs, and two CGI feature-length films.
Featured Project
This month we need your help on the spell pages. In Cinélume dub of the 3 first seasons, some convergence spells are missing and some spells' names are not correct.
Please do your part and list the corrections on the talk page, or edit the page itself if you can.
Fairies
Bloom
Stella
Flora
Musa
Tecna
Aisha
Roxy
Stella
Princess Stella is the princess of Solaria and one of the founding members of the Winx Club. Stella is the keeper of the Ring of Solaria and Guardian Fairy of Solaria. She is the second Winx girl to be introduced, the first being Bloom.
Personality and Traits
Stella is a 17 year-old blonde girl described as being the daughter of the Sun and the Moon. Though she is usually proud and self-centered, Stella also cares about her friends, not just herself. She will stick to her friends and do anything to keep them safe. Stella isn't always seen wearing a smile on her face, but she does crack jokes to cheer her friends when they are depressed. Basically, Stella has a cheerful and optimistic personality. Besides that, she is totally obsessed with fashion; which clothes look best on her, and which dresses best match her face. Stella often gives fashion advice to people in Alfea, but this advice is often not taken well. She would rather flirt with Brandon than study and do work which sometimes annoys the other girls. The most intuitive of all of the members, Stella likes to match make but has often had problems with understanding why her friends do not always like getting set up. However despite her intuitions, Stella can be rather oblivious at times. She was sent to Alfea to become a stronger fairy, but this did not mean so much to her, though she did effectively become a fully accomplished fairy and a powerful one by fighting the first three season villains with the Winx. She uses her magic for anything, but she mostly wants to help her friends as deep inside she is a generous and helpful girl. Although she might disagree with her friends, Stella is very supportive and protective and will not hesitate to help them. She learns to accept that love and friendship are far more important than royalty, fashion, and shopping. Sometimes she hides her true personality because of her upbringing. In short, her cheerful exterior masks great sorrow. Her signature color varies from yellow-orange to bright orange, various shades of pink, and occasionally blue and purple.
Musa
Musa is the Guardian Fairy of Music, and a former student at Alfea College for Fairies. She is also a member of the Winx Club.
Personality and Traits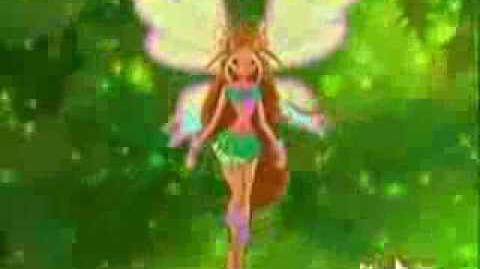 Musa loves music, dancing, singing and playing all instruments, but her favorite instrument is the concert flute, the first instrument she ever learned to play. Musa usually plays amazing music, but plays best when she is alone by herself in Alfea in a quiet spot. Despite being the most tomboyish of the Winx Club, she is perhaps the most emotionally vulnerable, and she balances this by putting up a tough front. Her emotional weakness is the result of her mother's death and her father being far away. She is also a bit of a loner and had a crush on Riven, but they do not admit they like each other until the end of Season 2, when they start dating. Surprisingly (considering Tecna is the brain of the group), Musa gets the best grades of the group, as mentioned in "Honor Above All". In Season 3, Musa admits that she wanted to break up with Riven, but they later reconcile. Musa then takes a break from Riven inSeason 4, and shows some feelings for Jason Queen, a music producer, but then is asked to sing at his wedding and reconciles again with Riven.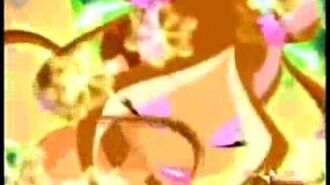 Tecna
Tecna is the Guardian Fairy of Technology, and a formerAlfea student who joined the Winx Club along with five other fairies during her stay. As the science expert of the group, the team relies on Tecna to solve any technological issues, whether magical, supernatural or ordinary.
Personality Profile
As shown in the series, Tecna is extremely smart, with an IQ of 150, and loves technology. Sometimes she gets engrossed with technology, and her enthusiasm with the same can be irritating. She is self-confident and a perfectionist. She is always practical and logical, sometimes to a fault. Tecna has trouble expressing her emotions, and bases the majority of her decisions on pure logic, though in the second and third season, she gets over that trouble and is more open and friendly toward her friends. She is selfless and nice to them; she truly cares for them, even if she cannot always show it using emotions. She develops emotionally through the series and eventually experiences crying, stating that she never cried before. In Season 3, she even decides to give up her emotions and love to acquire the Water Stars needed to defeat Valtor.
She loves science, experimenting in her spare time by creating numerous techno devices. She also has a photographic memory. She loves computers and video games. Tecna also enjoys playing sports and being active.
Aisha
Princess Aisha (Princess Layla in some versions) is the Princess of Andros and a member of the Winx Club.
Personality
Aisha is 17 years old at the beginning of Season 2. She is extremely opinionated and open minded. She is as intuitive like Stella, and when asked to, gives practical and pragmatic advice. She is also a talented dancer, athlete and speaks many different languages. The pixies trust her, Aisha is one of the few people who know the location of thePixie Village. Aisha gives practical advice and always provides a shoulder to cry on. She continuously shows this caring nature throughout the show, comforting Musa after her conflict with her father, and calming Flora's nerves when she experiences qualms about her feelings for Helia.
Before the pixies mission in Season 2, Aisha seemed to be a bit boy-shy, getting embarrassed when Brandon called her cute. She also holds some respect for Sky for being a gentleman to her (much to Bloom's initial annoyance) as well as for freeing her from the cavern wall and praising her boarding skills. At the same time, Aisha dislikes Riven the most as she does not appreciate his attitude towards girls, which was why she supported Musa's decision about breaking up with him in Season 3. She considers herself just as good as the Specialists at sports and sword fighting and has similar interests at them. At one point, she even takes control of the Wind Riders from Riven. When Aisha joined forces with Nebula in Season 4, she became the enemy of the rest of the Winx, being ready to allow Nebula to imprison Queen Morgana in the magic mirror where she was condemned to fade into the shadows, and the Wizards of the Black Circle as well even if the Winx tell her thatNabu would never have wished for her to choose Vengeance. They thought that she wanted to avenge the death of Nabu but she was not cruel enough to go through with it. Over the course of the seasons Aisha has lost her tom-boyish side possibly due to her opening up to the Winx and Nabu.
Roxy
Princess Roxy is the princess of the Earth Fairies and the last fairy on Earth.
Personality Profile
Roxy is very upbeat, cheerful, and willful, caring a great deal for animals, loving them, and keeping them as pets to the point of making her own secret shelter for them in the back of her father's bar. She's very brave, having confronted the Black Circle a couple of times and burglars even when she could not transform, and is always willing to help those in need. However, she can also get confrontational whenever she's angry or feels threatened, sticking up for herself when others put her down. She can also be very stubborn, demonstrated in her reluctance to believe that fairies exist, even when the evidence was literally staring her in the face. But on the same note, she is prone to tears when very confused or scared. Often she is overpowered by tears when forced to make an important decision under pressure. Roxy lives in Gardenia, just likeBloom, and this makes the two quite close because of their shared backgrounds and experiences. The Winx first met her at the Frutti Music Bar where she and her father worked, and got to befriend her later in the series. She owns a pet dog, Artu, whom she loves very much and is willing to sacrifice herself for.
Songs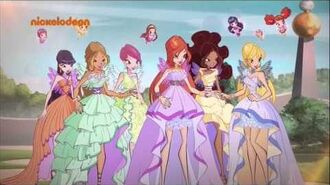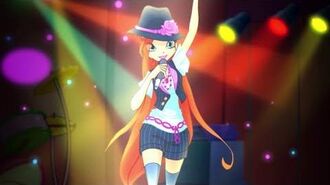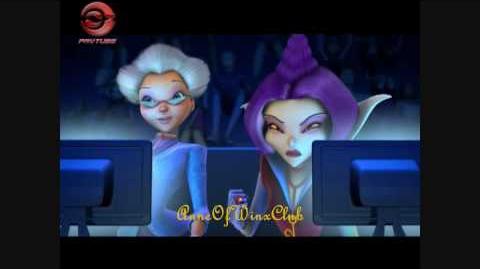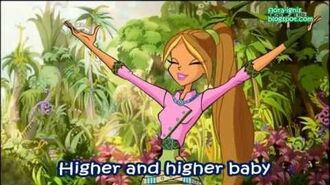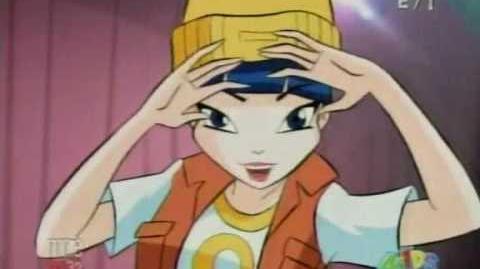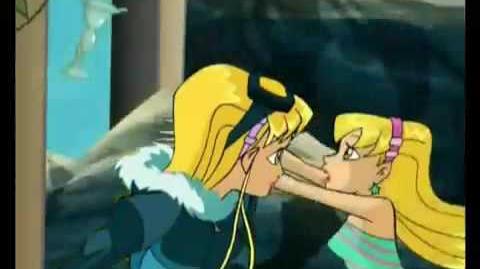 Community content is available under
CC-BY-SA
unless otherwise noted.