This article is about the series. You may be looking for another Winx Club.
This article is an overview of the series and its characters. For information about events in the series, see: Timeline (Winx Club).
Winx Club is an animated fantasy series created by Iginio Straffi. It is co-produced by Rainbow (a studio co-owned by Straffi and Viacom), RAI, and Nickelodeon (also owned by Viacom). The series has also spawned three feature-length movies and multiple spin-offs, including a live-action adaptation aimed at young adults.
In 2010, Winx Club was revamped when Nickelodeon began co-developing new seasons of the series. Nickelodeon's parent company, Viacom, became a co-owner of Rainbow the following year. Straffi has continued to work with Nickelodeon on both Winx Club and new shows. Almost a decade after their collaboration started, Straffi commented in a 2019 interview: "the know-how of Rainbow and the know-how of Nickelodeon are very complementary."
Synopsis
"Winx Club is a modern fantasy saga revolving around six fairies and their adventures. The protagonists Bloom, Stella, Flora, Aisha, Tecna, and Musa live their daily life on Magix world, among lessons, loves, quarrels and moments of strong friendship. At any moment, when needed, they can transform into super-heroines, ready to defeat evil and save who is in danger."
"In this animated fantasy, a girl named Bloom befriends a band of fairies, then follows them into the secretive and dangerous "Magical Dimension." Fun adventures and cool new friends are only part of what's great about being a fairy. The universe is so magical!"
Development Stages
Main article: Concepts/Winx Club
The pilot episode for Winx Club was finished in 2001, originally called Magic Bloom. The first sketches for the pilot were drawn by Iginio Straffi himself in 1999. When the pilot episode was screened for test audiences, Straffi found that they did not like its medieval-inspired look. He asked for help from fashion designers to redesign the characters.
In this first draft of Winx Club, the girls were to be younger. Bloom, Stella, and Tecna's appearances were kept relatively unchanged, but Flora's and Musa's appearances were much different. Flora originally had lilac hair and glasses, while Musa had green hair and elf ears. All of the characters' fairy forms were different as well.
After the first season began production, the series' name was changed to Winx: Just Fairies in 2002, and then to Winx Club in 2003. Straffi based the title on the English word "wings".
Production
Winx Club was created by the Italian comic book artist Iginio Straffi. The show's animation studio, Rainbow, is co-owned by Straffi and the American company Viacom. Viacom is also the owner of Nickelodeon, which co-developed the specials, and seasons 5, 6, and 7 of the show.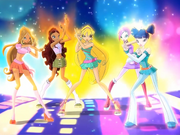 From the beginning of the show's development, Straffi planned to only produce three seasons. He outlined the show's overarching story to conclude with the 78th episode. However, he had to change his plans after the show became internationally popular around 2007. Profits from the Winx Club series were singlehandedly financing the company's other projects. Straffi was compelled to continue the show to keep Rainbow afloat; in a later interview, he stated that "without the Winx, Rainbow probably wouldn't exist right now."[1]
Starting with the fifth season, Straffi changed the show's target demographic to a younger audience. Some fans have incorrectly blamed Viacom (co-owner of Rainbow since 2011) for this decision, when it was actually Straffi who chose to aim the show at younger children. Reflecting on this, Straffi said in 2019: "Nowadays, it's very difficult to get a 10-year-old to watch cartoons. They all go for the live-action... When your [new] target is 4-to-8, your story cannot have the same level of complexity as the beginning seasons of the Winx... The fans of the previous Winx Club say on social media that the new seasons are childish, but they don't know that we had to do that."[2]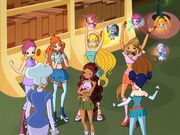 Moreover, since the fifth season, Straffi has taken a step back from focusing on Winx Club as much as he did in its early years; when asked if he was bored of the show, he replied, "Let's just say I've moved onto other projects."[3] At Rainbow's request, Nickelodeon assembled a team of prolific crew members to work on the show in 2010. The Nickelodeon staff had ample experience in writing for the audience that Straffi was looking for; Winx Club writers like Janice Burgess, Adam Peltzman, and Jeff Borkin had worked in Nickelodeon's preschool division for many years.
For the new seasons' music, Nickelodeon's lyricist McPaul Smith and composer Peter Zizzo collaborated with the Italian team. Zizzo, a Grammy Award winner, was the composer and writer for many individual songs including We Are Believix and Way of Sirenix. Viacom also cast new American voice actors to record their brand-new episodes at the Atlas Oceanic studio, near Hollywood. Ariana Grande (Diaspro), Cymphonique Miller (Krystal), Daniella Monet (Mitzi), Elizabeth Gillies (Daphne), Keke Palmer (Aisha), and Matt Shively (Sky) lent their voices to the characters. This marked the first time that English audio tracks were used to animate the show's characters, rather than the Italian voices.
In 2014, Rainbow went through a period of financial issues. Their high-budget animated film Gladiators of Rome lost tens of millions at the box office, and Viacom Italy was devalued by millions as a direct result of their stake in Rainbow. This led to budget cuts for the seventh season of Winx Club, which had been announced by Rainbow and Nickelodeon in April 2014. The 3D computer-generated segments and Hollywood voice actors, both of which were highlights in the previous two seasons, were deemed too costly to keep using. The season eventually premiered in June 2015 on Nickelodeon Asia. This would be the last season to be animated with the characters' original designs, as well as the last season of the main series until almost half a decade later, in 2019.
An eighth season premiered in 2019. The show was completely redesigned for these episodes, with the characters appearing much younger in order to appeal to an even younger target audience. No major plot points from the previous episodes were carried over. Behind the scenes, most of the essential crew members from prior seasons were not called back for this season. When asked if she would be continuing in the eighth season, Elisa Rosselli (singer for almost every Winx Club song since 2007) stated in an interview, "No, I didn't get a call."[4] This season is also notably the first without involvement from art director Simone Borselli, who was responsible for the finalized character models used from seasons 2-7.
Broadcast History
In Italy, the series was broadcast on Rai 2 from January 28, 2004 until April 7, 2014. The series was moved to Rai Gulp from July 27, 2014 onwards, starting with the fifteenth episode of Season 6. For the eighth season, which began on April 15, 2019, the series was again moved to Rai YoYo, a preschool channel.
In 2011, the American company Viacom became a co-owner of Rainbow and Viacom's Nickelodeon co-developed new seasons of the show. Viacom cast American voice actors to record the show at the Atlas Oceanic studio, near Hollywood. Nickelodeon U.S. premiered the series on June 27, 2011, beginning with four-one hour specials summarizing seasons one and two. Seasons 3 and 4 were re-recorded by the Hollywood voice actors and aired from 2011 to 2012.
The brand-new seasons 5, 6, and 7, co-produced with Nickelodeon, aired soon after. Season 7 made its world premiere on Nickelodeon Asia on June 22, 2015. Nickelodeon UK aired it next, on July 4, 2015. It was later aired on Rai Gulp (September 21, 2015) and Nick Jr. in the United States (January 10, 2016). For this season, both the CGI segments and the Hollywood voice actors from the previous two seasons were considered too expensive at a time when Rainbow was undergoing financial difficulties. As a result, the season was done entirely in 2D animation, and English voice actors from the dubbing facility DuArt were hired. This was also the last season to be animated with the characters' original designs.
The series has been aired in over 150 countries, mostly on Nickelodeon's various international outlets. Despite being heavily inspired by Japanese animation, Winx Club has not been aired in Japan, as foreign production companies must pay for their shows to be given airtime there. The spin-off World of Winx was dubbed in Japanese, the first time the characters ever received official Japanese voices.
Art and Animation Style
This section lacks information. Please help us by expanding it.
Other Media
Publications
An ongoing monthly comic book series based on Winx Club has been published since 2004. Its storyline is divided into seasons to follow the animated series, but it usually contains new stories. Some of the comic series' elements, like the Stones of Memories, made their debut in the comic series years before appearing in the TV series.
A CGI feature film, Winx Club: The Secret of the Lost Kingdom, was announced by Rainbow in 2006, and released on 30 November 2007. Internationally, it was mainly released direct-to-video. The plot of the film revolves around Bloom's origins, and takes place after the events of the third season. The official website for the film covers several markets, with release dates and other information.
At the Licensing Expo 2008 in New York, Rainbow announced the production of a second film, slated to premiere in 2010. It was later announced in spring 2010 that it would be titled Winx Club 3D: Magical Adventure and it would be Italy's first-ever movie in stereoscopic 3D, with a release date of October 29. A 10-minute promo reel was shown at the Giffoni Film Festival in July.
Theater
In September 2005, the Winx Power Show began in Italy. After a successful tour in Italy, it also expanded to Belgium, the Netherlands, and Portugal. November 2008 also saw the launch of Winx on Ice, an ice show starring Carolina Kostner. At the 2019 Giffoni Film Festival, Rainbow held a "Rainbow Day" event where the Winx performed a show together with Riccardo Frascari as "JJ", from Rainbow's other show Club 57.
Video Games
Winx Club games have been released for the PlayStation 2, PlayStation Portable, Game Boy Advance, Nintendo DS, Wii, and Microsoft Windows. Most of the Winx Club games are published by Konami; Winx Club: Believix in You was published by Namco Bandai Games.
There are currently many video games based on Winx Club:
Merchandise
In Europe, the first-ever Winx Club dolls were made by the Italian company Giochi Preziosi and sold only in Italy. The first line was the Season 1 Dolls, which included the five original Winx, Sky, Brandon, and the three Trix. Giochi Preziosi would continue to make toys for the second and third seasons. For the fourth season and beyond, European dolls were made by Witty Toys.
Italian candy manufacturer Ferrero has distributed plastic Winx Cluv figurines as prizes inside their Kinder Surprise chocolate eggs. In Singapore, bags, clothing and similar items are available.
In 2011, Nickelodeon announced that JAKKS Pacific would be their toy partner for brand-new Winx Club toys. JAKKS made a wide variety of dolls, playsets, and Halloween costumes that were designed in collaboration with Viacom and Nickelodeon Consumer Products.
Many books, some including activities and toys, based on the show have been released. In Europe, Tridimensional publishes Winx Club books along with magazines for other Rainbow shows like Club 57. In the United States, Random House started publishing English-language Winx Club books.
DVD Collection
In Italy, Mondo Home Entertainment released the first two seasons with both Italian and English audio tracks, the English audio being Cinélume's dub. In 2007, 01 Distribution released the third season on DVD, but these discs contained the Italian audio only. Later, 01 Distribution re-released the first and second season on DVD without the English soundtrack. Tridimensional also released the first three seasons of the show on Italian newsstands along with the Winx Club magazine. These releases contained the original English, Italian, and French audio. The third season release contained Dutch audio as well, and the fourth season contained only Italian audio. Box sets of all four seasons were released by Tridimensional with the same amount of volumes and content that were released separately on newsstands.
In North America, the entire first season of Winx Club, first released on 12 July 2005, was available as a five-disc collection until 2008. The first DVD of the second season, "Layla and the Pixies", was released in 2007, and the second volume, "Battle for the Codex", came out in September 2007, and both are still available. The first DVD of the third season, "The Princess Ball", was released on 27 January 2009, however, the release of the other half, "Fire & Flame", was suspended.
Paramount Pictures, owned by Viacom, has released many DVDs for the show. The first was "The Secret of the Lost Kingdom Movie" in August 2012, which contained seven episodes from Season 4 as well as the first movie. The next was "Believe in Magic" in October, which contained the next seven episodes from Season 4. Four DVDs encompassing the entire fifth season were released from March 2013 to January 2014: "The Power of Sirenix", "Tales from the Sea", "Peril in the Magic Dimension", and "Peace in the Infinite Ocean". Paramount released the sixth season over four volumes as well: "Bloomix Begins", "The Search for Eldora", "Mythix Fairies", and "Winx Forever". A box set of all four DVDs, "The Complete 6th Season", was available in November 2015. Paramount also released the second movie in 2013, with a bonus disc of seven episodes from Season 5.
In Singapore, Turkey, and Hungary, the third season (as well as the first two) was released with unedited English audio (Cinélume's dub) in four and six volumes respectively; the latter containing Italian audio as well. Also, the fourth season is available in Turkey with English audio spanning six volumes. In Brazil, the first two seasons were released with unedited English subtitles and audio in sixteen volumes.
Trivia
According to Iginio Straffi, some aspects of Winx Club were inspired by animes from the 1970s-90s, notably the transformations and early character designs. In a 2011 interview, he listed the animes Grendizer, Mazinger, and Lady Oscar as influences.

Also according to Iginio Straffi, the show's magic schools were inspired by the rivalry between the real-life universities of Oxford and Cambridge.[5]

Even though Winx Club premiered in 2004, most copyright dates in copyright notices start with 2003. This is due to the "Winx Club" name being chosen in 2003 when the first season was wrapping up production.
On February 2, 2018, Winx Club was mentioned on Season 34, Episode 105 of Jeopardy!. The category was "Join the TV Club" and the answer was "Tinker Bell would feel right at home with Bloom, Flora & company in Winx Club, a group of these beings", and the correct question was "What are fairies?"
In a 2017 interview, Iginio Straffi stated that he originally intended for Winx Club to finish with its third season. For the additional seasons made afterward, he made sure each had a specific theme related to it. For example, the fifth season is based on the oceans and pollution.
Iginio Straffi wanted to make a live-action version of Winx Club for many years (as early as 2011), but he was only familiar with animation up until this point. To get some experience with live-action shows, he produced Nickelodeon's Club 57. He then started production on Fate: The Winx Saga, which will follow the same general story as the first three seasons.
Trailers and Promos
Development Stages
Seasons
Movies
Logos
External Links
References