Wait! We need a plan!

This Episodes Article is a D! It is in desperate need of improvement. The synopsis needs to be reworded or extended, quotes need to be added and the format is incorrect. Do what you can to help!
The Frozen Tower is the twenty-second episode of the fourth season of Winx Club.
Synopsis
Morgana and the Warrior Fairies aren't happy with the Winx's decision to protect the Wizards. To make their feelings clear, the Warrior Fairies attack Gardenia putting the Winx in a very tough spot.
Plot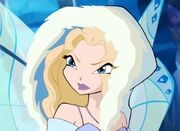 Aurora, Fairy of the North, comes to Earth on Morgana's orders, freezing it over and threatens to send the planet into another ice age. But she is told that no harm can come to Roxy.
The Winx were in the park with Roxy and the Specialists when the temperature starts to drop when Nebula makes an appearance stating that if the Wizards of the Black circles are not turned over to Morgana then they will have to face Aurora. In Sibylla's cave, Duman nearly blows the Wizards cover to show that they still have evil intentions. The Winx, using their new Lovix powers (a wintery-themed transformation), go to confront Aurora. The Winx and Roxy track down Aurora in her ice fortress and must do battle with her minions.
After the battle, Aurora traps them in a cage constructed out of ice and snow, and worst of all, Roxy's body temperature slowly starts dropping.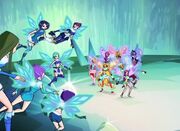 Major Events
The Winx earn their Lovix transformation.
Earth starts to freeze solid.
The Winx save a ship trapped in ice.
Debuts
Characters
Spells Used
Songs
Cinélume
Nickelodeon
Coming soon...
Scripts
Trivia
In the Nickelodeon version, Aurora learns that Bloom has the Dragon Flame, but in the other versions she does not know Bloom's fire energy is the Dragon Flame.
This episode marks the 100th episode of Winx Club.
Mistakes
In one scene, Musa's Believix rubber band was blue instead of pink.
Quotes
Coming soon..