A pinch of Fairy Dust will do it!

This Episodes Article is a B! This article is on its way to completion, but does need some minor changes.
Morgana's Secrets is the twenty-fifth episode of the fourth season of Winx Club.
Synopsis
The Winx have the final Gift of Destiny, which allows them to save one life of the fallen. Unfortunately, the Wizards ruin their only chance at saving Nabu. Aisha is now driven to vengeance but Morgana is cleared of it.
Plot
The Winx and the Specialists are sitting on the beach, brokenhearted as the screen shows flashbacks of Nabu.
Nebula creates obstacles for Aisha to defeat. She then tells her that soon there is going be a new fairy queen. Roxy has a dream of Morgana getting trapped in a mirror.
The Winx fly over to the castle only to find that the castle has been guarded by a protection spell. On reaching there, a green monster attacks them.
The Winx then head up to the tower and find Morgana missing. The warrior fairies then come out and attack the Winx so they use their Speedix wings.
Aisha knocks Bloom, Stella, Flora, and Roxy out with a scepter. Nebula is shown sitting on the throne while Aisha and the Warrior Fairies get into a battle with the Winx.
Unable to fight Aisha, the Winx regroup. Nebula, Aisha, and the
Warrior Fairies
then head to the
Omega Dimension
. Morgana tells Roxy that she is her mother and only Roxy can free her from the mirror.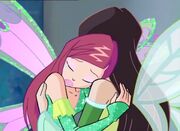 After Morgana and Roxy have a short reunion, the Winx teleport to the Omega Dimension.
The Warrior Fairies attack Gantlos but Bloom stops them and Morgana knocks them out. Roxy uses an ice eagle to track Gantlos. Morgana says that she wants the Fairies to come back home but then the Wizards collapse the cave.
Major Events
Debuts
None.
Characters
Spells Used
Songs
Cinélume
Coming Soon...
Nickelodeon
Coming Soon...
Scripts
Trivia
Mistakes
Quotes
"

We've been fighting witches and monsters for years, but I never thought that one day, it [death] would happen.

"
"

I never thought it would happen to one of us, to Nabu.

"
"

He and Layla made so many plans.

"
"

Don't strain yourself. We already know the answer, and you know what? We don't like it!

"
"

So, I see it didn't take you long to replace me.

"
"

The girl you knew is broken, just like the flower Ogron gave me. All I wanna do is give him back his gift.

"
Community content is available under
CC-BY-SA
unless otherwise noted.