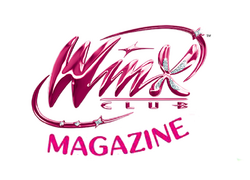 The
Winx Club Comic Series
, or more commonly the
Winx Club Magazine
, is a comic book series based on
Winx Club
and
World of Winx
.
Overview
Over one hundred issues have been produced, including two issues focusing on the movies and three Halloween issues contained within their own miniseries. The first twelve are based directly on episodes of the first season, while the rest focus on other adventures.
Issues
Please note: Only the first 72 issues have been officially translated into English. Fan translations for the later comics exist online.
Main article: Hallowinx
#
Cover
Title
Release date
1
The Castle
April 2004
Bloom begins her newest school year at Alfea with her newest friend, a fairy princess named Stella.
2
The Secrets of Alfea
May 2004
Bloom searches for a dress to wear at the Traditional Meeting Dance being held at Alfea, but comes across some uninvited guests.
3
The Boys from Red Fountain
June 2004
Bloom and her newest friends officially form the Winx Club as Prince Sky and Brandon are tasked with bringing a Hunting Troll back to its home.
4
A Friend for Bloom
July 2004
The story of how Bloom first met Stella and came to Alfea is told.
5
Prisoner of the Dark
August 2004
As payback for foiling their plans of sabotaging the Traditional Meeting Dance, the Trix imprison Bloom within a tree, leaving her friends to find and rescue her.
6
The Swamp Monster
September 2004
During an assignment out in the Black Mud Swamp, the Winx are pit against a vicious swamp monster and flung into a storm created by Stormy.
7
The School for Witches
October 2004
After hearing about a book of forbidden spells, Icy breaks into a hidden room and retrieves the rumored book. However, she may need help from a familiar fairy to get it to open.
8
Heart of a Fairy
November 2004
Musa's conflicting feelings for both Riven and Mitril have left her at odds with herself, while Bloom learns of her boss' personal tragedy and looks for a way to give her closure.
9
A Job for Bloom
December 2004
To keep up with personal expenses, both Bloom and Musa go job-hunting. Musa soon finds one working in the Alfea Libraries with Miss Barbatea while Bloom finds herself competing for a job as a café waitress with two witches.
10
The Revelation
January 2005
Bloom and Stella uncover the shocking truth behind the two boys they have come to love as the Trix uncover the true whereabouts of the power they have been seeking.
11
Dragon's Flame
February 2005
After having left Alfea, Bloom came to learn that she is the Keeper of the Dragon's Flame. Or, at least she was until the Trix cornered her and stole it to conquer the entire Magic Dimension. With the help of her friends, Bloom searches for a way to regain her lost powers before the Trix take total control of Magix.
12
Magic Battle
March 2005
With Red Fountain destroyed, Cloud Tower under their control and Magix City reduced to a ghost town, the Trix decide to end the war by taking out Alfea once and for all, and it is up to everyone to make their final stand.
13
Moonlight
April 2005
The Winx and Specialists go searching for liquid moonlight.
14
Alone Against Everybody
May 2005
A big party is being held at the White Horse and Musa attempts to use it to grow closer to Riven. A familiar face returns to Magix and, when Riven proves to be too distant, Musa decides who she wants to be with. Unfortunately, Mitril is arrested that same night and the Winx must prove his innocence before it is too late!
15
Dragon's Land
June 2005
Thanks to their rivalry spawned from Sky's initial lie, Bloom and Diaspro are dragged into the dragon homeland and must work together if they wish to escape.
16
King Nobody
July 2005
The Winx help free King Nobody from his eternal punishment.
17
The Ghost of Balmoral
August 2005
The Winx spend their summer vacation on Earth and soon come across the Castle of Balmoral, only to get tangled up in its mystery.
18
The Guardian of Dreams
September 2005
Recently, the Winx have been plagued with nightmares and are met by an injured girl from the forest. After learning the girl's name and that she is trapped within her own nightmares, the Winx search for a way to free Layla.
19
Monsters on the Loose
October 2005
The events of Season 2 are summarized as the last of Lord Darkar's shadow monsters is vanquished.
20
An Evil Wind
November 2005
Reduced to wanted fugitives constantly living in hiding, the Trix seek out a way to erase everyone's memories of their past crimes so that they can regain their old lives.
21
The Shaab Stone
December 2005
The legendary Shaab Stone is discovered and a nefarious business man plans to use it for his own selfish purposes.
22
Treason
January 2006
Tensions run high after the failure of the Shaab Stone Retrieval Mission and Helia is facing all of the blame. This soon leads the young Specialist to be suspected of treason as Flora plans to uncover the truth.
23
Return of the Trix Girls
February 2006
The Trix regain their memories and plan to wreak havoc while everyone else still believes them to be amnesiacs.
24
Love Potion
March 2006
A Cloud Tower Witch named Shilly makes a love potion so that Brandon can be all hers.
25
Logic and Love
April 2006
Tecna is told by her father of the boy who has been chosen to be with her, but Tecna wishes to date Timmy, which leaves her struggling to choose between her father's logic and her love for Timmy.
26
The Seed of Disagreement
May 2006
The Trix plan to use the Disagreement Plant to cause realm-wide chaos, while the Winx and Specialists must retrieve it before that can happen.
27
Darko the Black
June 2006
A familiar face from the Trix's past arrives in Magix City and makes a bet to woo Bloom by the end of the day, unaware of her reputation. Icy decides to help her old friend out, which leads to a terrible accident that leaves Sky hospitalized.
28
Witch Love
July 2006
Now that she possesses incriminating evidence on Darko, Icy is confident that she can make him all hers. However, Darko's father, Mazakis, wants him to marry a princess so that he can regain his former power and wealth. When he learns of Darko's problem with Icy, Mazakis plans to have her taken out.
29
Magic Tournament
August 2006
The Magic Tournament is held once again but, this time, Faragonda's job is at risk.
30
Love for Layla
September 2006
The Pixies try to find the perfect match for Layla to help curb her loneliness.
31
The Return of Princess Diaspro
October 2006
Princess Diaspro returns to Magix and Bloom begins to worry over her relationship with Sky. However, when it turns out that Diaspro has returned with pure intentions, the Trix take matters into their own hands.
32
My Friend is a Dragon
November 2006
The baby dragon Bloom had rescued in the dragon homeland has grown up and found her.
33
Ghosts
December 2006
Musa and the Winx help an old composer named Sifelius move past the death of his late wife.
34
A Story of Knights and Ladies
January 2007
The Winx are thrusted into a virtual world set in Medieval Times for one of Professor Palladium's exams.
35
The Trial
February 2007
The events of Season 3 are summarized as all of the blame for the Trix allying with Valtor is placed onto Headmistress Griffin. She must now stand trial in front of the Fortress of Light Council to prove her innocence, but everyone may lose someone in the process.
36
New Challenges
March 2007
After the events of The Trial, Helia has left Red Fountain to live on his own as a freelance artist. He is soon commissioned by Mr. Zerja, but Zerja has his own sinister plans in mind for Helia's paintings.
37
Together Again
April 2007
Worried over his friends and his grandfather, Helia returns to Red Fountain just as a notorious villain is let out of prison and is making attempts on Saladin's life.
38
Musa's Enterprise
May 2007
Musa is given ownership of a pavilion by Sifelius and uses it to open up a music studio.
39
The King of Rock
June 2007
The Winx befriend a rock star celebrity whom they discover is living a less than luxurious life.
40
The Kingdom of Darkness
July 2007
While out on a hike, the Winx, Specialists and Pixies encounter a sudden storm that opens up a portal into another realm. Monsters exit the portal and kidnap Stella due to her light magic, and it is now up to the group to rescue their friend alongside a kingdom that was plunged into darkness.
41
Love Beach
August 2007
A week-long vacation at the beach turns into one plagued with romance issues for Tecna and Timmy.
42
Milly's Secret
September 2007
The Winx get lost in a storm-riddled realm on their way to Dark Lake Academy, but find shelter in a manor in the middle of nowhere. They soon befriend Milly, a soft-spoken scullery maid, and choose to help her live out one magical night at the ball.
43
Lost Words
October 2007
An ancient and magical virus that devours all manner of texts—written or electronic—plagues Magix. Everyone bands together to find a cure before they are rendered unable to keep records of history.
44
The Loyalty Game
November 2007
A friendly boat race among friends is quickly turned into an assassination attempt when a rogue speed boat rams into Bloom and Sky's boat. After learning that the rebels on Eraklyon have begun their attack, someone is sent to Magix as extra backup.
45
Suspicion and Deceit
December 2007
With more and more assassination attempts, Sky and Brandon must return to Eraklyon when King Erendor falls under critical condition. The Winx lend their aid to the people of Eraklyon to find the rebels before they can take Erendor's life.
46
Mission to Andros
January 2008
The Winx and Specialists are sent to Andros on vacation as thanks for their valiant efforts against Valtor, but soon find themselves involved in what could become realm-wide pandemonium. To make matters worse for Aisha, her relationship with Nabu may be in jeopardy.
47
Pirate Island
February 2008
Continuing where the previous issue left off, things take a turn for the worse when the Winx and Specialists are captured by pirates. Aisha, who was the only one to evade capture, must now rescue her friends.
48
The Knights of the Star
March 2008
Flora receives a distressing letter from an old friend, so the Winx are sent to the Kingdom of Thordal with the Specialists to figure out a solution to all of its problems. While this is already a daunting task, it is made much worse when the Trix are forced into their group.
49
Love Betrayed
April 2008
King Thorgal fears that his beloved wife and most trusted knight are seeing each other in secret. The Trix then plot to use this to their advantage by having a pawn escalate the king's fears for them.
50
Rebellious Genie
May 2008
The Winx must locate a genie who is also a professor at Alfea, however, he refuses to grant any wishes to the one who owns his magic lamp.
51
The Island of Time
June 2008
What was supposed to be a relaxing getaway turns into a disaster when the Winx and Specialists find themselves lost on a deserted island in the past!
52
Infernal Concoction
July 2008
To get through the excruciating exams at Cloud Tower, Icy creates a candy that boosts one's mental activity through the use of an ancient spell but, before she uses it on herself, she has her classmates try it out in case of possible side-effects.
53
The Black Comet
August 2008
After Tecna's father, the King of Titania, lends aid to the realm of Ephirius to help repel a comet which is on a collision course with it, the Winx decide to lend a hand as well, all while Tecna comes across a potential suitor, much to Timmy's dismay.
54
Pandora's Box
September 2008
The Winx and Trix are invited to Oskuria College as guest lecturers. As the Winx try to inspire confidence in a sheepish, bullying-victim named Harold, they and the Trix come across a sinister box full of disasters within the heart of the school.
55
Temptations
October 2008
Every student in Magix is on edge thanks to a recent string of kidnappings in which female students are being whisked away and forced into magical trafficking rings. This ultimately leads to Riven growing more and more distant towards his friends and Musa, who becomes much more emotionally vulnerable as a result. Musa then decides that she may need to end this cycle before it becomes too much for her to bear.
56
Magix on Ice
November 2008
As the newly-appointed mayor of Magix City, Mr. Dyamond decides to give the city a "face lift" by having a wizard who specializes in weather magic change the realm's regular weather patterns to make it more appealing. This ends up bringing snow to Magix, which Mr. Dyamond uses to hold a city-wide skating event.
57
Red Devils
December 2008
Musa meets a boy who shares her dream in wanting to become a famous musician, but Riven cannot bring himself to trust him. Things are only made worse once Riven realizes that Musa and Brian may have a romance waiting to bloom.
58
The Magic Child
January 2009
The Winx are tasked with protecting a young child with powerful magic from a gang of demons who have been terrorizing her mother.
59
Winx Band
February 2009
A new professor arrives at Alfea, eager to teach the school's fairies on how to overcome shyness and control how people perceive them. For their project, the Winx decide to form a band and they are a major success! Not only do they win their school's contest, they score a record deal and become realm-wide stars! But will they really be able to enjoy the life of stardom?
60
Future Adventures
March 2009
The Winx assist a professor and his pet in returning to their time period in the future. In the process, the girls catch a glimpse of their future selves running a pet shop.
61
The Rebellion
April 2009
The Winx accompany Tecna on a trip back to her homeworld to reunite with an old friend, but get caught in a robot rebellion spurred on by a sentient robot named Multimax. The Winx, Iris and her robotic confidant, Memox, must now prove to the robots that Multimax is not what he seems to destroy his rebellion.
62
Stormy Skies
May 2009
After being rejected by the Fortress of Light Council, the young wizard Helgard creates a disastrous storm that ravages Magix to prove his worth, but things go horribly wrong when he loses the antidote. The Winx must now aid Helgard in recovering the antidote before all of Magix ends up flooded, all while Bloom returns to Gardenia to find out what could possibly be splitting her parents apart.
63
Poison
June 2009
With the Eraklyon Rebellion growing in intensity, three additional bodyguards are assigned to help guard Sky with Brandon, but Sky refuses to have his daily routine disrupted. What was supposed to be a normal hangout at the White Horse is turned into a potential crime scene when both Stella and Brandon are mysteriously poisoned!
64
Magic Holiday
July 2009
The top group of students from each of Magix's three schools are awarded with a week-long vacation in Holiday Beach as Saladin must present a new form of magic that can prove to be beneficial to the realm. Unfortunately, Bloom and Sky become the targets of two fame-hungry celebrities while the Trix are tasked with sabotaging Saladin's presentation.
65
New Love
August 2009
Stress from being unable to see Brandon thanks to the war gets piled on top of having to be the one her mother confides her troubles in and Stella cannot seem to handle any of it anymore. This later causes the overly stressed Stella to lash out at Brandon when she finally gets the chance to talk to him, which results in them breaking up! Unable to bear being alone at such a vulnerable time, Stella goes looking for a new boyfriend.
66
The Dispute
September 2009
After getting a request, the Winx travel to a farm owned by Flora's old friend, who needs their help easing the ever-rising tension between the Hellend Family and Mallen Family farmers before it all boils over.
67
Magix Virus
October 2009
A magical computer virus plagues the cyber world of Magix, and the Winx and Trix are tasked with deleting it before it deletes all data.
68
Roxy the Seventh Fairy
November 2009
The events of Season 4 are summarized as Roxy makes her debut. Fed up with the Winx's success, Givelian and Yerka force Griffin to allow the Trix onto the Fortress of Light to stir up trouble in an attempt to make the Winx look like they put too much faith in the newest fledgling fairy.
69
The Cursed Jewel
December 2009
The Winx discover a mystical jeweled necklace rumored to bring misfortune to its owners. After witnessing its fabled curse, the Winx investigate its origins.
70
Ski Break
January 2010
All of the students and faculty of Magix's three schools go on a wintery week-long vacation in the White Mountain Realm. With everyone being able to enjoy themselves, namely the Winx, the Trix look for ways to enjoy themselves as well but at the expense of others.
71
Layla's Courage
February 2010
Aisha reunites with her old childhood friend, Silvan, and love quickly blossoms between them. However, the more invested Aisha becomes in her newfound relationship, the more she begins to see that Silvan is not the man she originally thought of him as.
72
High Tide
March 2010
The Winx try to solve a water problem in the Terramaris region on planet Seantis.
73
Perfume and Magic
April 2010
After being sent to Hoggarth College as part of a student exchange program, the Winx uncover the plot of a sleazy business tycoon who wishes to take over the town being polluted by his own over-abundance of factories.
74
Love and Duty
May 2010
When Eraklyon erupts into civil war, Sky and Brandon must leave knowing that they may never come back.
75
Needless Courage
June 2010
Bloom tries to come to terms with how Sky may never return from the Eraklyon Civil War and, at the same time, deal with a possible love blossoming with a new guy named Jordan.
76
Revenge of the Sea
July 2010
The Winx travel to Blue Bay of the Terramaris region to help a former Specialist with an environmental project. Unfortunately, their little vacation turns hectic when they uncover Blue Bay's overfishing problem caused by head fisherman, Samuel Morgan.
77
Hopes and Disappointments
August 2010
The Winx take a vacation to a nature preserve in the mountains as part of an end-of-the-year trip to help take their minds off of the Eraklyon Rebellion. During their stay, they meet Jessie, Stella's old friend, and Paul, who Stella quickly falls for upon realizing that she does not wish to wait for Brandon, who may never come back to her. As Stella tries to further this new romance of hers, she, the Winx and her new friends must uncover the mystery behind strange attacks on the surrounding wildlife.
78
The Wizard Kamud
September 2010
With the Eraklyon Rebellion intensifying after King Erendor receives near-fatal injuries, Bloom and Stella become more stressed than ever until Brandon makes an unexpected return to Alfea to report on the rebels' latest plans: to kidnap Bloom and use her as blackmail to get Sky to surrender.
79
Conflicts of the Heart
October 2010
Finally, the Rebellion has come to an end and Sky and Brandon return to Magix victorious. To celebrate their return, Bloom and Stella organize a surprise party at the White Horse, unaware of how fatigued they are from months of constant conflict. Meanwhile, Musa begins to develop a new love after a falling-out with Riven.
80
Old Doors New Mysteries
November 2010
Musa's old friend is forced to close down his hall, so he gives her ownership of an old warehouse to use in place of it. As Musa and her friends try to make due with what they have been given, they end up getting involved with a group of thieves who were using the previously abandoned warehouse as a safehouse for their stolen loot.
81
The Flower of Truth
December 2010
Now with their own clubhouse, Flora uses part of it to start up a garden which quickly earns her the attention of fellow gardener, Silius, and his fiancée, Helene. After Silius is injured, Flora is tasked with caring for a rare flower of his with a special magical property. Unfortunately, this special property makes it the target of corrupt business executives who wish to abuse it.
82
Forbidden Magic
January 2011
Roxy falls head-over-heels in love with a Specialist named Manuel but, thanks to her inability to so much as speak to him, has begun to do so poorly in classes that she risks failing out! Things begin to look worse for Roxy when the Winx find out that Manuel is dating a serial flirt of a witch named Rachel. As much as they do not wish to, the Winx eventually make a love potion to help Roxy charm Manuel, despite how forbidden it is.
83
Monsters of Stone
February 2011
Kamud returns to exact his vengeance for being humiliated back in Issue 78, so he unleashes a pair of giant stone golems to destroy Magix's three schools.
84
Riddles and Jealousy
March 2011
Relationship troubles fall upon the two latest couples as Lukas becomes the target of suspicious individuals and Roxy and Manuel have trouble coming to terms with their feelings for one another.
85
Bad Dreams
April 2011
After Bloom and Roxy begin having nightmares about the Wizards of the Black Circle, the Winx rush to Earth to see if everything is alright. Unbeknownst to them, however, a new enemy lurks within the shadows and seeks to free the frozen Wizards.
86
The Golden Reef
May 2011
A mysterious and sinister sorcerer known as Neruman sends his shadows out to various parts of the universe to stir up trouble and collect the sorrow and anger fueled by it. His latest target? The Earth.
87
Gregory's Fury
June 2011
With magic becoming more commonplace on Earth, so to are individuals all across the globe awakening to their latent magical powers. A young man named Gregory realizes that he too has magical abilities but, when the Winx fail to get him accepted by the Fortress of Light Council, Neruman has the Wizards of the Black Circle coax the moody young wizard into join him.
88
Kyral's Test
July 2011
Kyral searches for a spell to help her pass all her classes, only for it all to go horribly wrong!
89
Little Wishes
August 2011
Bloom takes the Winx shopping with her in Gardenia to look for the perfect birthday present for her foster mother. During their little shopping spree, the Winx end up at a bakery that not only sales sweets, but wishes too!
90
Adventure on Zenith
September 2011
A new model of a robot sentry goes haywire and turns Tecna into a metal statue. The rest of the girls must find a wizard recluse to not only stop the robot, but to restore their friend.
91
Werewolves in Shady Hill
October 2011
The Winx and Specialists celebrate Halloween on Earth but a hairy surprise is awaiting them.
92
The Club of Vampires
November 2011
Bloom, Stella, and Flora goes into a club but doesn't know that something bloody is in the air.
93
Revenge of the Mummy
December 2011
The Winx is still on earth ready to meet with their boyfriends but a mummy comes back and haunts the Winx and all of Earth.
94
The Fury of the Snow
January 2012
The Winx are enjoying their vacation on Planet Stalax, a planet of snow. Their vacation however, is temporary put on hold when a beast, known as the Wocky, attack the resort.
95
The Source of Light
February 2012
The Winx are still at Roxy's house. Morgana dreams of a dark place full of despair - the place is Solaria. Neruman wants control of the Second Sun of Solaria and the Wizards of the Black Circle help him possess Stella in order to do so.
96
Fairy for a Day
March 2012
The Trix gets a hold of a human who wants power for just one day. She will not stop until everyone's paid for what they done to her. It's up to the Winx to get to the bottom of this and save Earth once more.
97
The Dark Dimension
April 2012
The Winx only have one chance to get Roxy's mother her necklace back before she dies. The only way for them to get her necklace is to go in the dark dimension and face Neruman. Will they succeed or will they let the dark dimension get the best of them?
98
Return to the Amazon
May 2012
Bloom meets her old friend and who shows her a necklace that has a touch of magic in it. Now Bloom and the rest of the Winx has to go to the Amazon Forest to put the necklace back to stop trouble on Earth.
99
Star Shattered
June 2012
One of Stella's idols, Jenny Carter, is being attacked by manifestations of negative energy and she requests the Winx's help. As the Winx get closer the solving the problem, it becomes clear as to whom was attacking Jenny.
100
The Stone of Memories
July 2012
To celebrate the one hundredth year of the founding of Alfea, Faragonda selects a student to experience a new magical power - Bloom. But the Trix interferes with the experience out of revenge, and now Bloom must find a way out as the Trix try to manipulate her memories.
101
Winx Music Tour: The Spirits of Nature
August 2012
The Winx, along with Jason Queen, are at Magnolia, on Earth perform a concert. But Mitzi and her two friends, Stacy and Brooke, want to steal the Winx's spotlight at their concert. To do that, they steal three traditional musical instruments and accidentally evokes a catastrophe.
102
Winx Music Tour: An Enchanted Melody
September 2012
The Winx are on tour to Latin America, singer Clarice will be performing before them but when Bloom witnesses an argument between Clarice and her guitarist, Joaquim, Clarices fans have disappeared and wreck havoc in the city of Aroma de Maio.
103
Winx Music Tour: Magic of the East
October 2012
The Winx's last tour destination is Zhanjiang, here the legend of the mystical foxes are well known. One of the foxes, Yako the Fire Fox, lost her connection to nature and is now willing to let business tycoon, Sakura destroy the land she called home.
104
The Mirror of the Sea
November 2012
The Winx are alerted by the Selkies of a terrifying sea monster who attacked the fishermen on Earth; as they investigate, there is more to the story than what meets the eye. First appearance of Harmonix.
105
The Jaws of the Abyss
December 2012
As the Winx keep watch over a pair of scuba divers with their newly acquired powers, Tritannus and the Trix aim to enter the Bermuda Triangle to absorb the powerful toxins that reside within it. Upon arrival, the evil group of four are attacked by a battalion of Selkies and during their fight, Tritannus and the Selkies are swallowed up by a monster known as the "Jaws of the Abyss." To rescue those they hold dear, the Winx and Trix are forced to cooperate.
106
The Mysterious Island
January 2013
Out on holiday, the Winx search for the Island of Esmeralda for a place to rest. On the way to the Island, the Winx get swept up in a storm and find themselves on a deserted island, where they soon find out that the storm from earlier had been caused by a magical being. To find this magical being, the Winx split up to search the island, but come face to face with traps that seem to counter each of their powers.
107
The Dark Sirens
February 2013
The Winx go stargazing on Andros as Aisha is called back by her father for something urgent. The situation escalates much further once Queen Niobe is kidnapped by The Dark Sirens, a group of Andros' former queens who were turned into creatures of darkness. The Winx now have to race against time to save Niobe before she is converted into the fifth and final Siren.
108
The Scream of the Banshee
March 2013
The Winx travel to Ireland to perform at a Celtic Music Festival. When they arrive at their hotel, they meet up with Andy, Rio and their newest band member, Maeve, whom Andy has found himself absolutely smitten with. This rubs Bloom the wrong way but not due to feelings of jealousy, and the Winx soon learn that Maeve has a very sinister history and may pose as a serious danger to the Celtic Music Festival-goers.
109
The Threat of the Atlanteans
April 2013
The Atlanteans are stealing islands from all over the various realms within the Magic Dimension to reconstruct their home of Atlantis, but they are also posing a threat to the ecosystems from which they steal the islands. The Winx must now look for a way to compromise with the Atlanteans and return the islands to their rightful worlds with their newly acquired Sirenix powers.
110
The Magical Valley of Linphea
May 2013
Flora returns to Linphea to celebrate her birthday with her little sister, Miele, unaware that Miele has conspired with the Winx to set up a surprise for her sister. As she and the Winx try to make the most out of Flora's birthday, Tritannus arrives in Linphea's oceans for his own nefarious purposes.
111
The Flower of Koralis
June 2013
The Winx hold a flower contest in Gardenia but one of the contestants' plants emits spores capable of turning living things into more monstrous versions of themselves. As chaos erupts in the park, the Winx must destroy the Koralis Flower before its spores spread across the city.
112
The Trix's Trap
July 2013
The Winx give a tour around the new marine park in Gardenia to a small family of four. Unfortunately, their day is interrupted by a familiar trio of witches arriving to stir up trouble.
113
Magical Costumes
August 2013
The Winx come across a festival full of cosplayers in Gardenia Plaza; some of which include a group of girls cosplaying as the Winx themselves. Shockingly, everyone at the festival can use the powers of the person they are cosplaying as and the girls soon learn that their costumes were made by a young fairy named Judy.
114
Fairy Talent
September 2013
The Festival of Magic is being held at Alfea and a promising young fairy gets to meet her idol, Bloom. However, her pleasant day takes a turn for the worst as sudden disaster strikes the festival.
115
The Last Dragon of Pyros
October 2013
The Winx must return to the Island of Dragons to rescue Bloom's old mentor and an endangered species of dragon when Maia's newest pupil turns out to have more sinister motives.
116
The Flute of the Shaman
November 2013
Plagued by nightmares caused by her mysterious family heirloom, a young girl named Malina seeks out the Winx for assistance. Things soon spiral out of control when the heirloom releases Malina's third great-grandfather, who begins changing Gardenia into what it once was in prehistoric times.
117
The Ice Princess
December 2013
A lonely and heartbroken ice princess teams up with the Trix to freeze all of Earth over for the chance to reunite with her beloved. It is up to the Winx to defeat the Trix once again and save the planet before it is too late.
118
Mitzi's Challenge
January 2014
Unable to bear seeing Bloom and her friends basking in their fame, Mitzi challenges Bloom to a cooking contest to prove how useless she can be without her powers. If Mitzi wins then Bloom has to lose her powers for good and, to make matters worse, an infamous trio had been listening in on them. With the challenge televised live all across Gardenia, Bloom must now learn how to cook within 3 days if she wishes to keep her fairy powers!
119
The Power of Music
February 2014
While out sailing in the open waters of Melody, Musa finds herself unable to play her instruments. The wildlife of Melody has also begun to be thrown out of whack and the Winx soon find the cause of these strange occurrences: the Tuning Fork of Harmony that kept Melody in balance has broken! The Winx now seek out a hermit named Lynyrd to fix the Tuning Fork to restore balance to Melody and Musa's powers.
120
The Enchanted Forest
March 2014
After teaching the local children about a ginkgo tree, Flora feels a magical spark within it and, just as the sun sets, a girl emerges from within it! Wanting to figure out who she is, the mysterious girl wanders through Gardenia, but she possesses ancient and powerful magic beyond her control! Though the Winx try their best to pacify the girl, she runs off and finds help in the worst possible place.
121
The Lost Puppy
April 2014
n/tba
122
The Great Challenge
May 2014
The Winx engage in a friendly soccer match between a team of Cloud Tower Witches to showcase solidarity between the two schools. Unfortunately, their match is interrupted by the Trix, who wish to mess with the Winx for "making Cloud Tower sink so low."
123
The Spell of Time
June 2014
Fed up with the Winx's constant meddling, Icy comes up with the idea to travel back in time to before the Winx Club had been formed and split the girls apart so that the Winx Club never existed to hinder them. Once the girls begin to suffer the effects of the Trix changing the past, they are sent back to stop them from changing the future for the worst.
124
Attack of the Centaurs
July 2014
The Winx, Specialists, Paladins and Daphne try to enjoy a nice day out at the Gardenia Horse Fair but it is quickly ruined by a spiteful Selina using the Legendarium to summon an army of Centaurs.
125
The Kingdom of the Dark Elves
August 2014
n/tba
126
The Magic Exhibition
September 2014
n/tba
127
The Legend of the Lantern
October 2014
n/tba
128
The Rainbow Mountain
November 2014
n/tba
129
The Queen of Hearts
December 2014
n/tba
130
An Unforgettable Party
January 2015
n/tba
131
Nex's Test
February 2015
Wanting to prove himself of being a capable boyfriend to Aisha's father, Nex goes to find and hunt the last Melusina on Andros. However, when Nex does not return after days, the Winx search for the last Melusina's home to rescue him.
132
The Fire of the Phoenix
March 2015
n/tba
133
The First Fairy Hunter
April 2015
n/tba
134
Kiko's Courage
May 2015
n/tba
135
The Magic of Food
June 2015
n/tba
136
The Age of Giants
July 2015
n/tba
137
The Flower Thief
August 2015
n/tba
138
The Stone Forest
September 2015
n/tba
139
Surprise Party!
October 2015
n/tba
140
The Mysteries of Alfea
November 2015
n/tba
141
Animals Bewitched
December 2015
n/tba
142
The Pearl of the Seas
January 2016
n/tba
143
The Flame of the Dragon
February 2016
n/tba
144
The Enchanted Melody
March 2016
n/tba
145
Winx Fairy Blog
April 2016
n/tba
146
The Magix Jewels
May 2016
n/tba
147
The Sand MiniWorld
June 2016
n/tba
148
Winx Summer Camp
July 2016
n/tba
149
The Guardian Nymphs
August 2016
n/tba
150
Magical Sparkles
September 2016
n/tba
151
The Disappearance of Alfea
October 2016
n/tba
152
Friends Forever
November 2016
n/tba
153
Magic Travelix
December 2016
n/tba
154
The Red Princess
January 2017
n/tba
155
The Secret of Happiness
February 2017
n/tba
156
The Talent Show
March 2017
n/tba
157
The Magic Storm
April 2017
n/tba
158
The Charity Race
May 2017
n/tba
159
Lily's Big Heart
June 2017
n/tba
160
A Dive on Lynphea
July 2017
n/tba
161
Technomagic Competition
August 2017
n/tba
162
Musa's Idol
September 2017
n/tba
163
Fairy Halloween
October 2017
n/tba
164
The Ice Land
November 2017
n/tba
165
A Special New Year
December 9, 2018
n/tba
166
A Talent to Discover
January 10, 2018
n/tba
167
Love Trap
February 9, 2018
n/tba
168
The Music Festival
March 9, 2018
n/tba
169
The Ladybug Prize
April 10, 2018
n/tba
170
A Magical World
May 9, 2018
n/tba
171
In the World of Dreams
June ?, 2018
n/tba
VIZ Media Volumes
In 2012, to coincide with Nickelodeon's acquiring rights to the series, VIZ Media began publishing the Winx Club comics. The comics were re-translated and placed in volumes consisting of two comics each. The comics were also slightly re-ordered by placing "A Friend for Bloom" as the first story in the series.
Community content is available under
CC-BY-SA
unless otherwise noted.