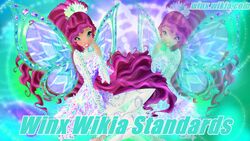 Welcome to the comprehensive list of standards for articles, pictures, and other items on the
Winx Club Wiki
. If you need any help, or if you have any questions or concerns, our
administrators
will help you. For new users, be sure to check out the
New Users Guide
as well.
Templates
Tecna's Files details the various projects going on on this wiki excluding the infobox templates. It also includes the templates used in the projects and navboxes. Templates should only be applied by project leaders.
Blog Posts Elaborating on Standards
This section will list the blogs that will expand on certain rules. PLEASE READ THEM.