Winx Club Forever

This article has been completed. Only edit if you think it can be improved.
Winx Party is an app game developed and published by Melazeta Srl Company for iOS and Android. It was released for iOS on January 12, 2012 and for Android on July 4, 2014.
Introduction
Winx Party, the App of the most fashion fairies of all time is finally available. Winx Party is the App that stimulates the imagination of girls with many Dress-Up combinations and more than 200 of clothes and accessories. Choose your dress, organize your party selecting between many different locations and invite friends to create your fantastic stories with easy-to-use drag & drop interaction. Take a photo and make an eCard with it! You can also share it to social media.
Features
The free version of the game contains all of the features for a complete experience.
- The 6 original Winx available;
- Dress-up with 16 clothes and accessories;
- 12 different party locations;
- 6 guests to invite and drag and drop to your party;
- Enhance your parties with magic effects for all of the Winx and their guests.
Enhance your experience with new collection in-apps:
Frutti Collection;
Sporty Collection;
Cowgirls Collection;
Rock Collection;
Love Collection;
Believix Collection;
4th Series Accessories;
Summer Collection;
Yacht Collection;
Concert Collection;
Pop Collection;
Princess Collection;
Sirenix Collection;
Harmonix Collection;
5th Series Accessories;
Sunny Zenith Collection;
Fairy Caribbean Collection;
Jungle Style Collection;
Winter Winx Collection;
Fairy College Collection;
Gardenia Style Collection;
Bloomix Collection;
Mythix Collection;
6th Series Accessories;
Glam Rock Collection;
3rd Movie Accessories;
School Collection;
Tourist Collection;
Time Travel Collection;
Butterflix Collection;
Flamingo Collection;
Tropical Collection;
7th Series Accessories;
Or choose the Magic Pack to get all the fun at a special price!
Updates
January 3, 2012 - Version 1.0:
Februrary 3, 2012 - Version 1.1:

Optimized for iPad;
Translation in German & Spanish;
Improved gallery environments.

June 2, 2012 - Version 1.2:

Can now create a real personal invitation for parties with friends.

July 11, 2012 - Version 1.3:

Customised photos can now be uploaded in e-cards.

June 18, 2013 - Version 1.4:

7 new collections from season 5.

March 10, 2014 - Version 1.5:

Collection's download bug fix.

August 27, 2014 - Version 1.6:

New collections from season 6.

September 25, 2014 - Version 1.7:
December 22, 2015 - Version 1.8:

New collections from season 7.
This section lacks information. Please help us by expanding it.
Trivia
Some features require in-app purchase for both iOS and Android.
Gallery
Trailers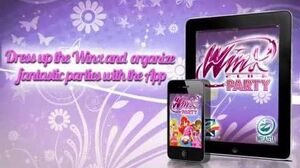 Community content is available under
CC-BY-SA
unless otherwise noted.