Winx Regal Fairy Story is an app game developed and published by Melazeta Srl for iOS and Android.
Introduction
"

The Only APP for Winx Club fans that alllows you to create many stories with characters from Winx Club TV series! Using a boundless store of characters, locations, accessories, icons, children can free their imagination and invent endless adventures. In addition, they can record their voice and edit it with special effects to give life to the characters! Bloom, Musa, Layla, Flora, Tecna (in two versions - Bloomix and Princesses,) Specialists, the Trix, the Pixies, Faragonda, the Pets, Kiko and many others, will be able to interact in the most famous backgrounds of the TV series: Alfea school, Winx rooms, Frutti Music Bar, the enchanted forest, the royal palace of Domino ...Each sotry can be saved and stored in the special Regal Fairy library, to be browsed as many times as you want! The APP is free to download and includes a set of characters, places, icons. You can activate additional content in two ways:

purchasing content packs directly from the Store

OR

Purchasing mini dolls from the collection "Winx Fairies Princesses" in sachet, available in every kiosk. By framing every mini doll with your tablet or smartphone, you can unlock free contents. Each Winx Mini Doll activates different contents.

"
Features
More than 100 contents to unlock including characters, backgrounds, icons, accessories.
Interactive Content to enlarge, reduce, and rotate.
Voice recording and ability to edit it with fun sound effects.
Intuitive and colorful graphics.
Educational Features
Stimulation of the use of imagination and the raw capacity of literary reaction.
Interaction with graphic elements to stimulate visual creativity.
Updates
August 28, 2014 - Version 1.0:
September 16, 2014 - Version 1.1:
September 27, 2014 - Version 1.2:

Inserted the tutorial for unlocking the content

February 4, 2015 - Version 1.3:

Extended language compatibles

September 13, 2015 - Version 1.4:
Trivia
Some features require in-app purchase for both iOS and Android.
This app has features unlockable by Winx Fairy Princesses toys only available in Italy and Germany.

Despite this, the game was still released in the US.
Gallery
Trailers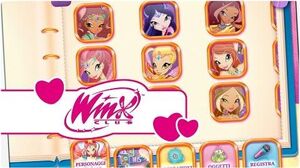 Community content is available under
CC-BY-SA
unless otherwise noted.