Winx Club Forever

This article has been completed. Only edit if you think it can be improved.
This article is about the game. You may be looking for the Winx Club spin-off series.
World of Winx is an online adventure game on the Nickelodeon website.
Description
In World of Winx, the player must go through multiple stages to retrieve Stella's sceptre-ring.
How to Play
Choice of Characters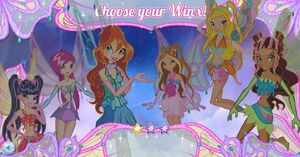 Choice of Transformation
Abilities
Flying once touching the purple wings
Spell Abilities
Spell Pulse (pusher);
Spell Pull (puller);
Summon a tote bag, book, or flower pot;
Enchantix Sphere (Bloom);
Bubble Bringer (Aisha);
Musical Bounce (Musa);
Flower Power (Flora);
Vortex (Tecna);
Ranging Rainbow (Stella);
Levitation/Float
Mistakes
Bloom's hair in Enchantix form is not styled.
Tecna's name is misspelled "Techna".
Musa's Charmix outfit is missing the pink fabric between her top and skirt.
Aisha's gloves in Enchantix are green.
This is the only time Nick features the Charmix with the original Charmix accessories.
Musa's Winx wings are too big.
Tecna has only a flag like shape of her wings in the Charmix.
The 'outfits' and 'poses' are the same in the Nickelodeon game: Winx Club: Dress Me Up
Aisha's shirt in Believix is sleeveless. Also, she has two gloves instead of one glove and bracelet.
Stella's Charmix wings are improper.
Tecna's hair in her Enchantix form is longer than the original.
Bloom's Charmix wings are too big.
Bloom's Enchantix wings do not have background colors inside.
Gallery
External Link