Kind of, but we have better style.

This Article is an A! It has all the sections and images in place, making it complete.
Yakobetta is a witch who attends Cloud Tower.
Appearance
Yakobetta has long orange hair that is combed back and flows down to her chest. She has a light complexion, dark brown eyes and orange lips.
She wears a greyish brown tank top, darker brown pants with flared pant-legs and brown flats.
Personality
Yakobetta is shown to be judgemental as she calls Roxy desperate for trying to use a love potion on Manuel. She also comes off as vicious as she cases and attacks Musa in season 1. But she's shown to be nice with her friends, Sabrina and Polly, and she's nice with other witches. But like some witches she most likely doesn't like fairies.
Series
Seasons
In "Alfea Under Siege," she is seen under the mind-control of Valtor. Later, under Valtor's control, she attacks Alfea as she and her classmates descend from the sky. In "Fury!," she is seen in Cloud Tower's dining hall.
Specials
She is seen at Cloud Tower, when the Trix try to take over. She is caught in Stormy's tornado but is saved by Griffin.
Comics
#82: Forbidden Magic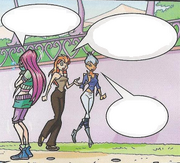 Towards the end of Issue 82, Yakobetta appears alongside Sabrina and the two of them catch Manuel lashing out at Roxy for putting him under the influence of a love potion, something that has been forbidden amongst Magix's three schools. After Manuel storms off, leaving a sobbing Roxy by herself, Yakobetta and Sabrina walk past the depressed fairy and ridicule her for being so desperate that she had to resort to using a love potion just to get a boyfriend.
Magical Abilities
Like all witches, her powers are derived from the negative aspects of magic. Yakobetta may know some basic, first-level spells that all witches can use, such as telekinesis, transmuting objects, and fixing minor messes. Like all witches, she can fly. Her magic is blue in color. 
Gallery
Community content is available under
CC-BY-SA
unless otherwise noted.