Zenith is the realm of technology and, as a result, is heavily integrated and dependent on it.
Overview
The people enjoy a high standard of living. They pride themselves on multitasking and doing it well. They also use the metric system. According to Stella, Zenith is a freezing place. It was stated by Tecna that it is because the climate helps the techno droids and the technology to function well.
The Ocean Gate of Zenith is guarded by a selkie named Lithia.
Society
Royalty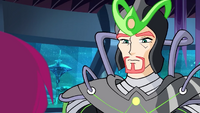 The King of Zenith, King Cryos, first appears in Episode 18 of Season 5 attending the meeting in Domino with his adviser. He reappears in Episode 22, where he refuses to have Zenith join the alliance against Tritannus but, later into the episode, Tecna convinces him to join and is successful in doing so. He also makes a cameo in Episode 24, having joined the alliance and offering up Zenith's services.
Flora and Fauna
Flora
The underwater plants present in the oceans of Zenith are dark green circles.
Fauna
Not much of Zenith's fauna is shown but the Techsquirrels, like Tecna's Fairy Animal Flitter, are natives from the planet.
Pre-Series
Community content is available under
CC-BY-SA
unless otherwise noted.